Former All-Star Baron Davis Paves the Way for Storytellers in the NBA
LOS ANGELES -- Baron Davis is on a basketball court in front of a friendly audience, though he's not here to play. Inside the gym at University High School, less than three miles from where his legend as the "Godfather" of LA hoops first took flight at Crossroads School, the 39-year-old is hosting his second annual Black Santa Celebrity Basketball Game.
While his duties don't necessarily preclude him from playing for either side in the South Pole's 88-78 win over the North Pole, Baron, with a bit of self-deprecating wit, quips with the crowd that he's been sidelined by his inability to fit comfortably into a jersey.
It might also be that he relishes his role as an MC, with stylist-to-the-stars Brandon Williams as his hype man. None of the big names in the building—from rappers like Tyga and Chamillionaire, to social media personalities Brandon Armstrong and Austin Mills, to former Los Angeles Lakers champion Metta World Peace—would be here without him.
Six-and-a-half years removed from his last NBA appearance with the New York Knicks, two-and-a-half years past his D League (now G League) comeback with the Delaware 87ers and more than three months following his stint as co-captain of 3's Company in the Big3, Baron remains a magnetic presence, thanks in no small part to the game that's helped him put his potential into action.
"I think basketball made me a man, made me take ownership of who I am and who I wanna be," Baron tells CloseUp360. "And basketball helped me realize that, 'You know what? I can accomplish anything if I put my mind to it,' because I didn't have to be here playing basketball. But I chose to do it and I stuck to it."
Baron Davis handles hosting duties at his second annual Black Santa Celebrity Basketball Game. (Darrell Ann)
That same drive has fueled Baron's various endeavors in his hometown's signature industries: media and entertainment. He's acted in movies and TV shows, developed some of his own through No Label Productions, delved into sports content with SLiC, and brought his previous production company (Verso Entertainment) and video game developer (5 Balloons Interactive) under the auspices of the Black Santa Company, which he launched in 2016.
The latest of Baron's ventures is as versatile as its founder, doing everything from merchandising and event production, to mixtape curation and content creation.
"For me, it's just doing," he says. "Be a doer and be humble enough to be a vessel and a vehicle for people to tell stories, and be a master collaborator."
Baron traces his passion for storytelling back to his childhood in South Central LA, living with his grandmother, Lela "Madea" Nicholson. Between gangs, drugs, violence and tensions with law enforcement, the neighborhood made for a difficult upbringing.
"I didn't have an exit strategy," he says, "so I used my imagination to take me out of a lot of hard places."
While South Central grappled with the prelude to and result of the 1992 LA Riots, Baron sought refuge by expanding his imagination through books and basketball.
"I could find what I needed in a book and I could find what I needed on the court," he says. "So for me, it was just trying to unlock as much distractions as I could, distract myself as much as I could."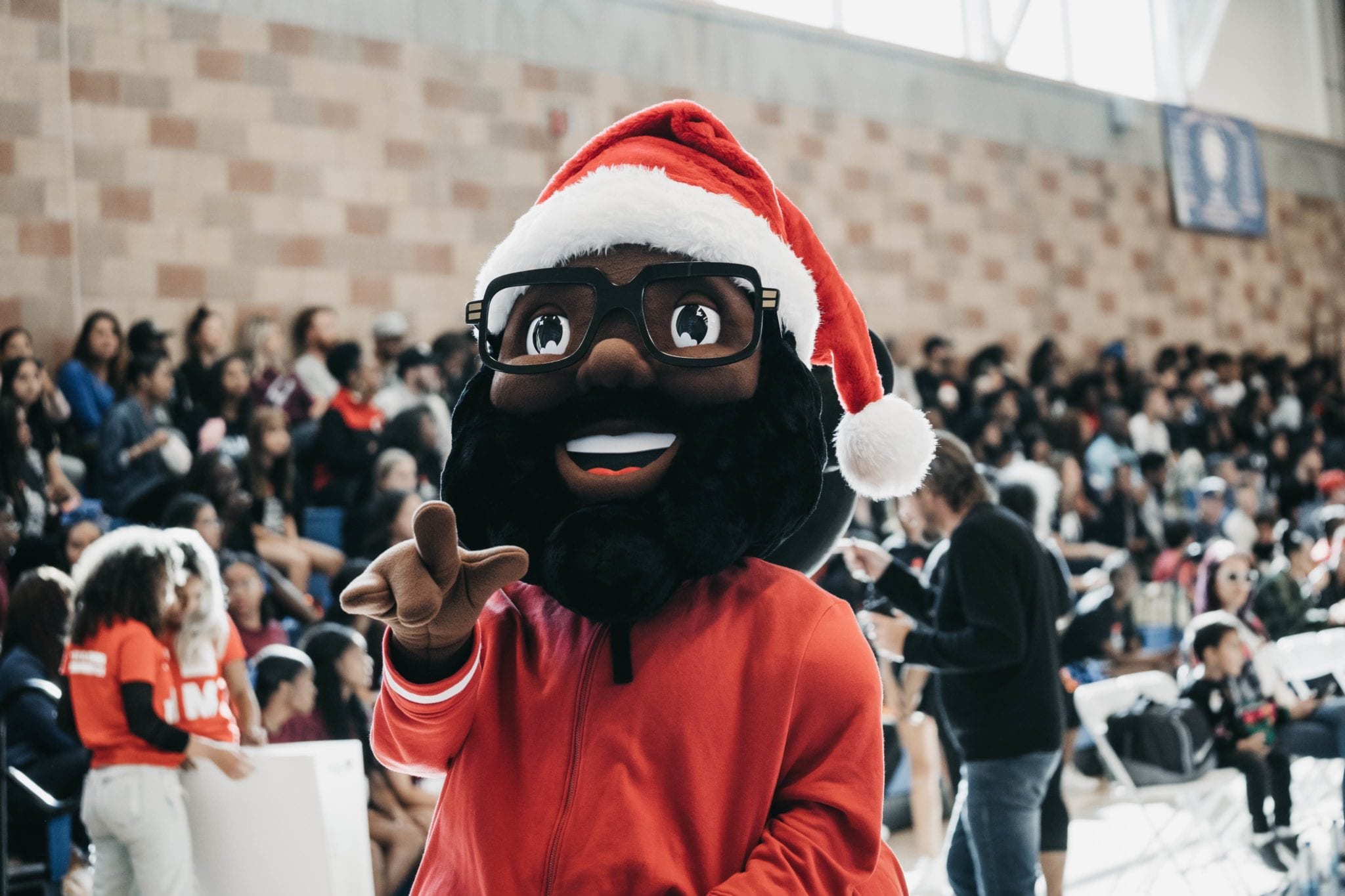 Black Santa entertains fans inside the gym at University High School in Los Angeles. (Darrell Ann)
Those dual pursuits helped Baron find a way out at Crossroads, the tony private school in Santa Monica where he became friends with actress Kate Hudson—and where Shaquille O'Neal and LeBron James have since enrolled their kids. His brilliance on the basketball court made him a McDonald's All-American and the Gatorade National Player of the Year in 1997 en route to UCLA. After two years with the Bruins, Baron emerged as the No. 3 overall pick of the Charlotte Hornets in the 1999 NBA draft—ahead of Lamar Odom, Shawn Marion and his buddy Metta, among others.
While shining as a two-time All-Star in Charlotte and New Orleans, Baron began building his profile in Hollywood. In 2000, he made his first acting cameo in the TV series Arli$$, a sitcom about a sports agent. Three years later, he welcomed cameras into his home for an episode of MTV's Cribs. Two years after that, he appeared as a celebrity contestant on Wheel of Fortune.
"I've been doing it my whole career," he says. "So I've been like studying, going to business school ("the business school of life," as he calls it), trying to get myself right to be in a moment like this when my career was over, to be able to sit down and know that I can accomplish what I want to in a second career."
By the time he tore up his knee with the Knicks during the 2012 playoffs, Baron had played himself on the TV shows Lincoln Heights and Hot in Cleveland; taken on alternate roles in The Forgotten, The Mindy Project and the movie That's My Boy; and produced a handful of scripted films and documentaries.
But where side hustles in entertainment are now the norm for NBA stars, Baron faced a far less forgiving atmosphere when he decided to stretch his skills onto the silver screen.
"When I was making movies, it was frowned upon," he says. "But I knew I had to do it so guys would have the confidence to step outside the box and be able to do it for themselves."
In Baron's wake, LeBron has led the way for the next generation of hoopers in Hollywood. He has created the content platform Uninterrupted, produced scripted series through SpringHill Entertainment and stolen the show in the hit movie Trainwreck. Kevin Durant, Stephen Curry, Isaiah Thomas, James Harden and Jimmy Butler have all taken their own steps into the media landscape, from YouTube clips and podcasts, to talk shows, full-length documentaries and feature films.
"Sports celebrities are starting to be recognized as people who have taste, [who are] tastemakers and influencers," Baron says. "And that's the most important thing."
Just because some of Baron's basketball successors have also taken queues from him in entertainment doesn't mean he's ceded that stage, though. He has many more stories to tell, along with plans to tell them—perhaps in partnership with the league's leading media moguls.
"I think it opens it up for us to start working together and do things," he says. "It just says that there's more stories out there to be told. And so everybody's got to have an opportunity to tell their stories, and I just want mine."
Since he was last seen dribbling in the NBA, Baron has been spotted in the Entourage movie and in Amazon's Mozart in the Jungle, and lent his producing power to a pair of well-received documentaries: Showtime's The Drew: No Excuse, Just Produce and ESPN's 30 for 30 called Sole Man. He's also become a fixture among the basketball commentariat, as a recurring panelist for the NBA on TNT's Players Only broadcasts.
Come January, he'll be starring in Fuse TV's WTF Baron Davis, on which he's also credited as an executive producer.
And, of course, he'll be keeping busy with the Black Santa Company. This year, the brand extended its Bay Area presence from a pop-up shop at Marshawn Lynch's Beast Mode store in Oakland to a month-long "Black Santa Wonderland" residency in Jack London Square.
The main characters, Black Santa and Mrs. C, are already available on shirts, sweaters, hats and paper goods, including plates, napkins and gift wrap. Soon, that duo—which began with Baron dressing up as Santa Claus for Halloween and realizing there were negative reactions to the notion of a black Santa Claus—will be the stars of everything from short- and long-form animations to a live-action feature film.
But for Baron, there's much more to all this than business. As has been the case since he was an active dreamer in the inner city, he hopes to create change through art that not only reflects a changing world, but also serves as something for life itself to imitate.
"It's good to see people just pushing the movement, pushing the energy, pushing the message," he says. "That's what it's about. It's not about me. It's about me taking this as far as I can and then letting the people have it."
Josh Martin is the Editorial Director of CloseUp360. He previously covered the NBA for Bleacher Report and USA Today Sports Media Group, and has written for Yahoo! Sports and Complex. He is also the co-host of the Hollywood Hoops podcast. Follow him on Twitter and Instagram.