For Stars and Role Players Alike, LeBron's Lakers Find Bigger Opportunities in Entertainment
By now, LeBron James is used to the attention. It's something that, since he went from preps to pros as the No. 1 pick of the Cleveland Cavaliers in the 2003 NBA draft, he's not only dealt with, but played it to his advantage. With the help of Maverick Carter, his longtime friend and business partner, he founded SpringHill Entertainment, a production company, in 2013 and Uninterrupted, a media platform that promotes athletes' voices, in 2014—both well before he joined the Los Angeles Lakers in the summer of 2018.
Still, even LeBron, a global icon though he was in Cleveland and Miami, has seen his star rise to another level in purple and gold. His talk show, The Shop, made the leap from the internet to HBO in August 2018. A month later, his voice came through the silver screen as Gwangi in Smallfoot. He told his own story in ESPN+'s More Than An Athlete, and attached himself as an executive producer to a slew of other TV shows, including Shut Up and Dribble, Warriors of Liberty City and Million Dollar Mile.
And, come 2021, he'll have his first leading role in a major motion picture when Warner Brothers releases Space Jam 2.
LeBron won't be the only current Lakers cornerstone featured in that film. Anthony Davis, whose push for a trade from the New Orleans Pelicans to LA was completed over the summer, is slated to appear in the sequel to the Michael Jordan-helmed classic. For him, the upgrade in market size, while not entirely daunting, was no less noticeable during the team's annual media day.
"It doesn't phase me. What I'm interested in is the stuff we do on the floor," Anthony said at media day. "Obviously, the bigger city, bigger media coverage, but I knew that when I got traded here, so I'm prepared for that."
The Lakers have long been a place where players could grow their public profiles beyond the sport of basketball. That truth has only strengthened and expanded in the age of social media, despite the team's weakness on the floor over the last six-plus years.
LeBron James and Anthony Davis, both Klutch clients, will appear in Space Jam 2 next summer. (Amir Ebrahimi)
Decades before Bron and The Brow stepped onset as co-stars, Kareem Abdul-Jabbar parlayed his Lakers stardom into roles alongside Bruce Lee in 1978's Game of Death, Leslie Nielsen in 1980's Airplane! and Chevy Chase in 1985's Fletch. Four years after helping the team win its first NBA championship in LA, Wilt Chamberlain produced his own film, 1976's Go for It, and later starred opposite Arnold Schwarzenegger in 1984's Conan the Destroyer. Though Shaquille O'Neal's initial foray into movies came while he was still with the Orlando Magic—in 1994's Blue Chips—his first leading role, in 1996's Kazaam, didn't come out until the day before he signed in LA and his second, in 1997's Steel, arrived in theaters after his first season with the Lakers.
But superstars aren't the only ones who've benefited from their affiliations with the Lakers. If anything, the real power of the brand lies in its ability to turn unknowns into household names.
Take Kyle Kuzma. The Flint, Michigan native flew under the radar during his three years at the University of Utah. He started to garner interest after the Lakers made him the No. 27 pick in the 2017 NBA draft. But even then, the league's largest (and most rabid) fanbase seemed far more interested in Lonzo Ball, the No. 2 pick that year. 
And though Zo remained a subject of intense fascination and scrutiny throughout his two seasons in LA, it was Kuz whose on-court production and swagger earned him his own chant at Staples Center and a moniker (Kuzmania) that he's since parlayed into his own line of apparel. With more than 3.8 million followers on Instagram and another million-plus between Twitter and Facebook, the 24-year-old has taken significant steps towards becoming a mogul outside of his sport, with a variety of endorsements and investments along with an expanding footprint in venture capital.
"The Lakers' brand is huge," Kyle said. "It's definitely a bonus playing in a big market. You have a chance to have a lot more visibility than you would in a smaller market. 
"That goes for the business sense, too. Obviously, marketing, getting those type of deals is obviously easier. But the business aspect, the ventures, the companies that want to be attached to the Lakers brand—and not only the brand, but you as a person. It definitely helps a lot."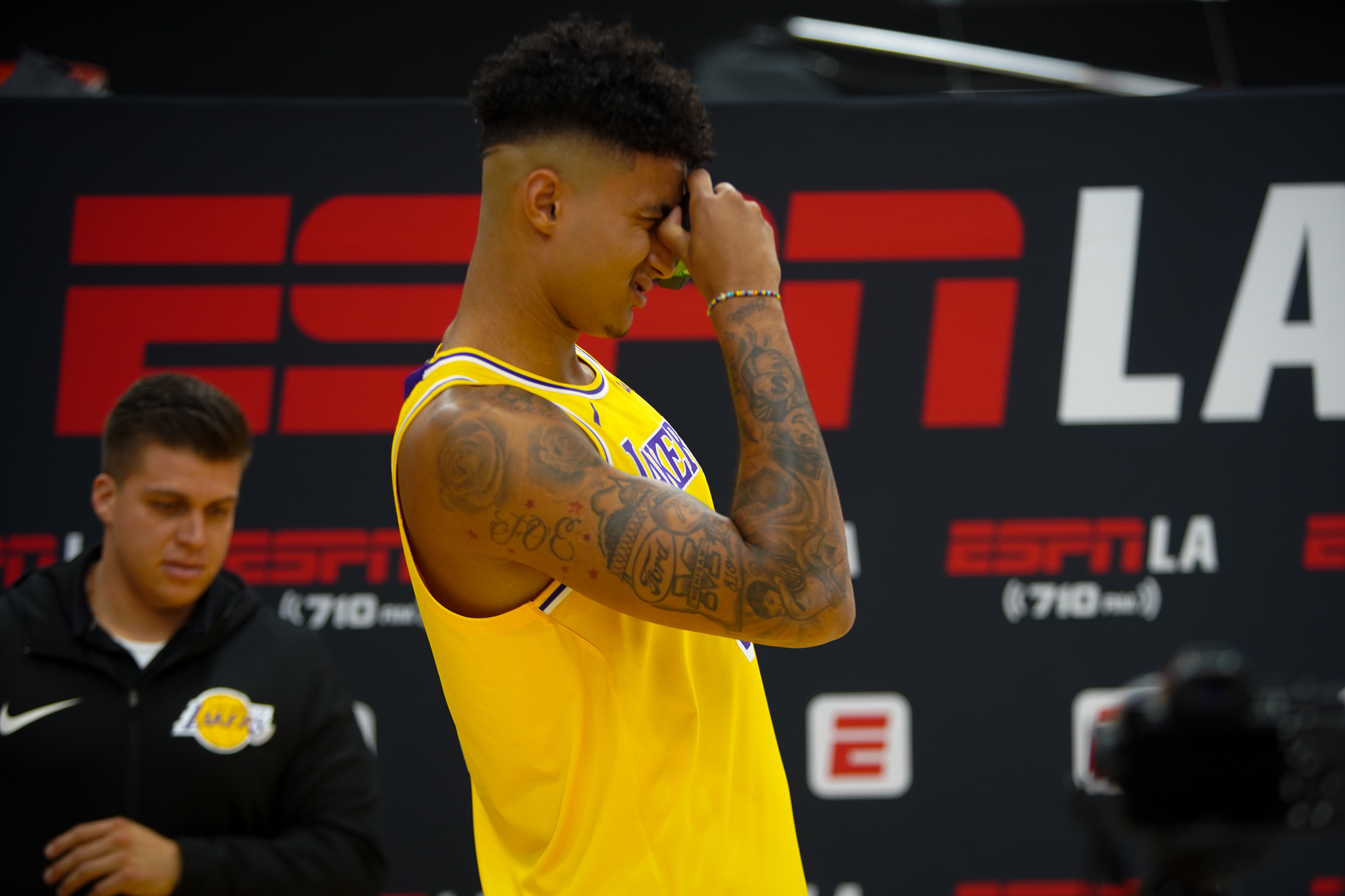 Kyle Kuzma recently signed a five-year endorsement deal with Puma. (Amir Ebrahimi)
As ubiquitous as Kuzmania has become, Kyle might not be the most mind-boggling, all-around success story the Lakers have produced in recent years. Alex Caruso, for one, has earned serious consideration in that category.
Sure, his social media footprint is a fraction the size of Kuz's. But no Laker has inspired more memes or a more fervent cult following within Lakers Nation than the 25-year-old Texan. More remarkable, still, is that he reached those heights as a two-way player, with just 62 NBA games under his belt so far.
"I appreciate Lakers fans so much for riding with me the last two years and then hopefully into the future," Alex said. "But I don't know why they chose me. I wish I had an easy answer."
Maybe it's his unassuming appearance, marked by male pattern baldness and a since-shaved mustache. Or, maybe it's the ridiculous dunks he's thrown down, despite looking more like a long haul trucker than a professional basketball player.
Whatever the answer may be, the result is the same. By virtue of playing for the Lakers, Alex is a far bigger star than his stats to date would suggest.
"The Lakers as a franchise and as a fanbase is just a special, special place," he said. "Like, it's really hard to explain it to people that don't understand, but the magnitude of it is worldwide."
For all the team's players, young and veteran alike, the Lakers' broad recognition can be seen as a considerable perk, even if it's far from the chief enticement. Danny Green came to LA for the opportunity to win alongside LeBron and AD, as well as the $30 million the club offered over a two-year term. But the 32-year-old two-time champion admitted that he "wasn't sure" he was going to continue his Inside The Green Room podcast—which he started during his lone year with the Toronto Raptors—until he landed with the Lakers.
"It makes sense with all the opportunities here, doing that and so many other things, to be able to prepare for life after basketball," Danny said. "Hopefully, I can continue to fool teams to give me a roster spot for another couple more years. But if they don't or if I don't, I can get into something else along the lines of building stuff with a brand here."
In truth, the Lakers aren't entirely unique these days when it comes to putting players of all reputes on powerful public pedestals. J.J. Redick started podcasting during his time with the Los Angeles Clippers and has continued in that vein with the Philadelphia 76ers and now the Pelicans. The Portland Trail Blazers, who play in one of the league's smallest markets, feature a podcast host (C.J. McCollum) and a bona fide rapper (Damian Lillard), who spent some of his summer on the set of Space Jam 2. Kyrie Irving found out he'd been traded from Cleveland to the Boston Celtics while filming the Uncle Drew movie in 2017.
LeBron set down roots in Hollywood years before he played ball in LA, and has since seen the likes of Stephen Curry, Chris Paul, Carmelo Anthony, Kevin Durant and James Harden—none of whom have suited up for the Lakers—follow in his footsteps as business owners in media and entertainment while still active on the court.
Nor are media-minded players choosing to play for the Lakers just because of their vast audience. For Jared Dudley, who's become an analyst and insider of sorts on Twitter while guesting on studio shows and podcasts, coming to LA as a free agent in July was all about competing for a championship.
"I've done enough in my career—enough TV, enough podcasts—that people know who I am," Jared said. "But here I am today, doing a press conference with you guys, doing this. It's fun, something that I'll be able to do for the next 10, 15, 20 years when I'm done playing. But this year, strictly basketball, strictly trying to win."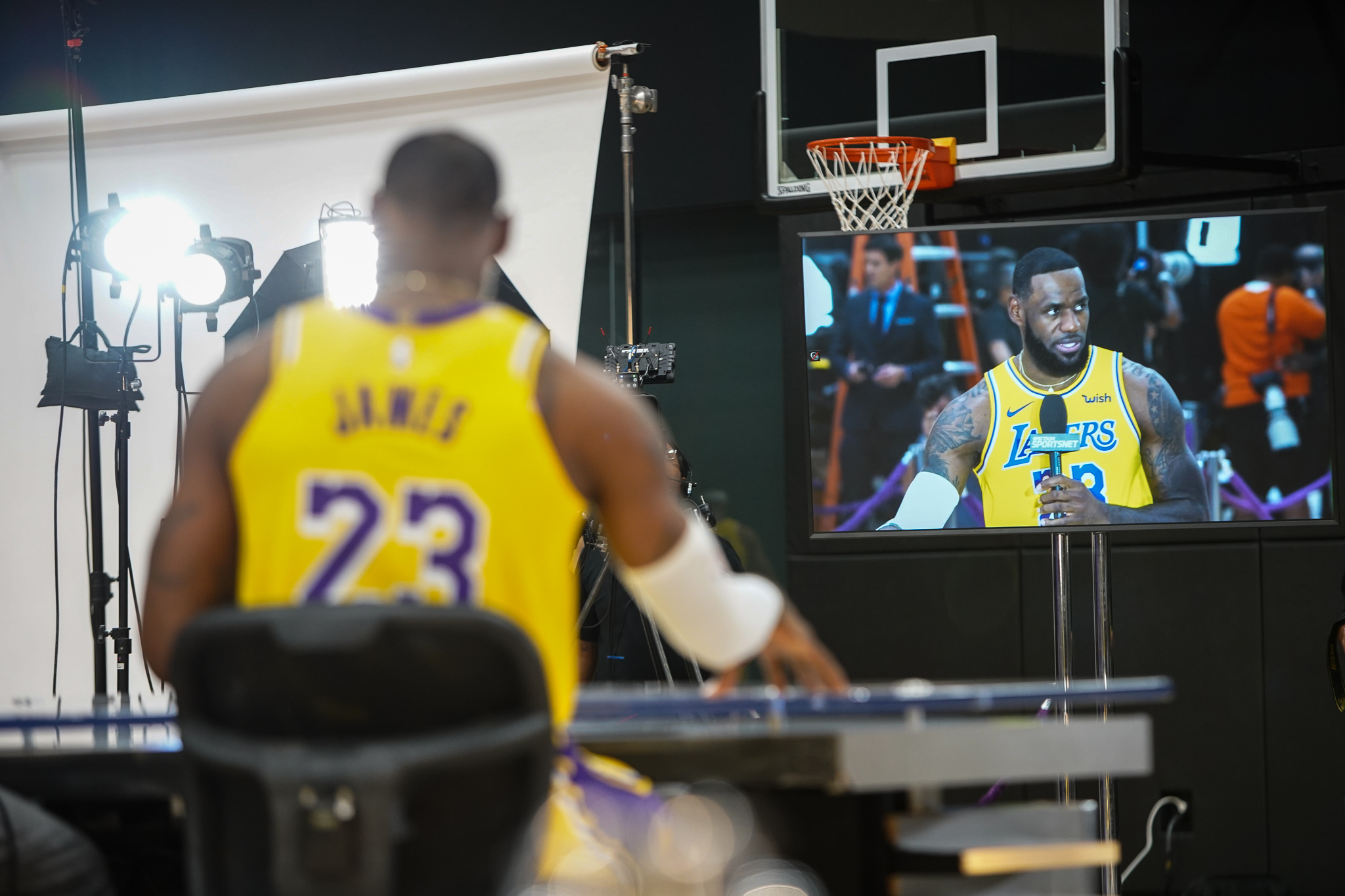 LeBron founded his media companies (SpringHill Entertainment and Uninterrupted) years before he joined the Lakers. (Amir Ebrahimi)
To the victors go those broader spoils, including potential cameos in commercials, TV shows and movies. If the Lakers wind up winning the franchise's 17th NBA title next June, the team's players figure to be flooded with those opportunities, thanks to a potent combination of physical proximity to the industry's epicenter and the franchise's worldwide reach.
That said, not everyone seems keen to capitalize the way Wilt, Kareem and Shaq have. Though AD may have the talent and the team to join that club of Hall of Fame big men who moved to LA mid-career and won with the Lakers, he has his own reservations about launching headfirst into Hollywood stardom, even (if not especially) after stepping into Space Jam 2.
"That was very time-consuming," he said. "At least right now, I don't see any more movies in my near future."
For the moment, that crossover appeal will remain the domain of the Hollywood heavy-hitter who's due to toss many a lob AD's way in the months to come.
Josh Martin is the Editorial Director of CloseUp360. He previously covered the NBA for Bleacher Report and USA Today Sports Media Group, and has written for Yahoo! Sports and Complex. He is also the co-host of the Hollywood Hoops podcast. Follow him on Twitter and Instagram.