Clippers' Tobias Harris Brings Multi-City Mentorship Program to Los Angeles
LOS ANGELES -- On a chilly fall evening in South Los Angeles, a crowd forms a line around the Weingart YMCA Wellness and Aquatic Center, awaiting the arrival of Tobias Harris. The gathering—comprised of families with strollers, senior citizens in wheelchairs, kids on tricycles, single mothers carrying babies on their hips and war veterans—isn't there for selfies with the Los Angeles Clippers star, though those are available to attendees if they please.
Rather, they've come to collect 250 frozen turkeys, wrapped in black "TOBIAS"-branded tote bags, from the man himself. But the 26-year-old doesn't hand out birds on his own. For this Thanksgiving event, he's joined by 30 members of the Tobias' Troops Mentorship Program, in partnership with the Clippers' Mentorship Assist Zone.
"It's been awesome to be here," Tobias says, "especially with my mentees and to be able to do something like this."
Tobias Harris hands out a frozen turkey in South LA. (Magdalena Munao)
Everywhere he goes, Tobias makes it a point to connect with young people in his team's city. The 6'9" forward started assembling his Troops in Florida, during a three-year stint with the Orlando Magic. Since then, he's established chapters in Michigan (while with the Detroit Pistons), New York (his home state), Connecticut (adjacent to his home state) and now California.
"I've been able to do this in different cities that I've played in," he says. "And to mentor young men, and just be able to track their progress and show them different opportunities in life, different careers that they may be interested in."
This is the first time, though, that Tobias has brought his mentees with him to a charity event like this turkey giveaway.
"That's something that we're going to do more," he says, "just having them around when we're doing community type things and so they get to see the impact that's being made."
With the help of his mother, Lisa, Tobias selects young men for the mentorship program who are successful in the classroom, yet could use a boost of motivation from the right person. These young men—varying in age, race and background—all hold one thing in common: the potential to attract attention from Tobias' organization and to grow with his guidance.
"They come to basketball games, but they also get to interact with different professionals that they may not have even thought of in their life," he says. "It's awesome for me because I'm able to pour into them, just like someone was able to pour into my life."
For Tobias, that someone was George Gervin. The smooth-scoring forward hired Tobias' father, Torrel, to serve as his agent after leaving the NBA to play in Europe. Since 2002, Tobias has spent time every summer training with "The Iceman." During the season, the two text frequently and talk on the phone about once a month, with George offering pointers from studying Tobias' games.
Tobias' Troops don't get nearly the hands-on training that the group's namesake got (and still gets) from a Hall of Famer. But for Davon Hunt, a 16-year-old junior at Washington Preparatory High School, participating in the program has been plenty impactful as far as learning what it takes to succeed in life.
"To be part of the Troops shows that he cares a lot—not like a regular basketball player," Davon says. "He actually cares about the community that he just moved to, not even where he's from. It shows me that I need to do better in school. If I want to reach the next level, these are the people I need to meet, these are people I need to be acquainted with. Dress to impress, dress to be part of the occasion. Don't be on the menu, be part of the decisions being made."
Victor Dominguez, the executive vice president and chief mission advancement officer for the YMCA of Metropolitan Los Angeles, appreciates the example Tobias has set for youth in the community, on top of the tangible Thanksgiving staple he's brought to the organization's members.
"I think events like this being able to support families that are in need, also it provides a break for families to have a turkey this holiday season on Thanksgiving Day," Victor says. "It also shows the engagement of a great organization like the Los Angeles Clippers and really truly believing in communities like South Los Angeles."
Tobias watches as one of his mentees connects with a visitor in South LA. (Magdalena Munao)
As the third of six kids—with three brothers (T.J., Tyler and Terry) and two sisters (Tori and Tesia)—Tobias grew up accustomed to lively Thanksgiving feasts, filled with his mother's ham, collard greens, sweet potatoes and freshly made rolls.
"It was always a big family and a lot of tall people," Tobias says. "We would throw down. We would eat."
The importance of family time during the holidays stuck with the Long Islander. He now hopes to provide the same tender Thanksgiving experience to those who lack the resources to create the ideal holiday meal.
"It means being able to sit down with loved ones and really embrace each other, and at the same time, embrace what we're here for, why we're alive, things we're thankful for, the blessings that we have, to be able to have family," he says. "I always look at Thanksgiving as a time to incorporate the family and be around each other, and be around loved ones and have conversation and watch NBA basketball."  
Tobias, though, is a newcomer to the Clippers' partnership with the YMCA of Metropolitan Los Angeles. Since 2015, the team has worked with the Y on various programs and events, including the LA Clippers Youth Basketball program, which counts more than 100,000 participants across Southern and Central California. The program, which teaches the fundamentals of basketball and sportsmanship at local YMCA's and community centers, is available to both boys and girls between the ages of six and 14.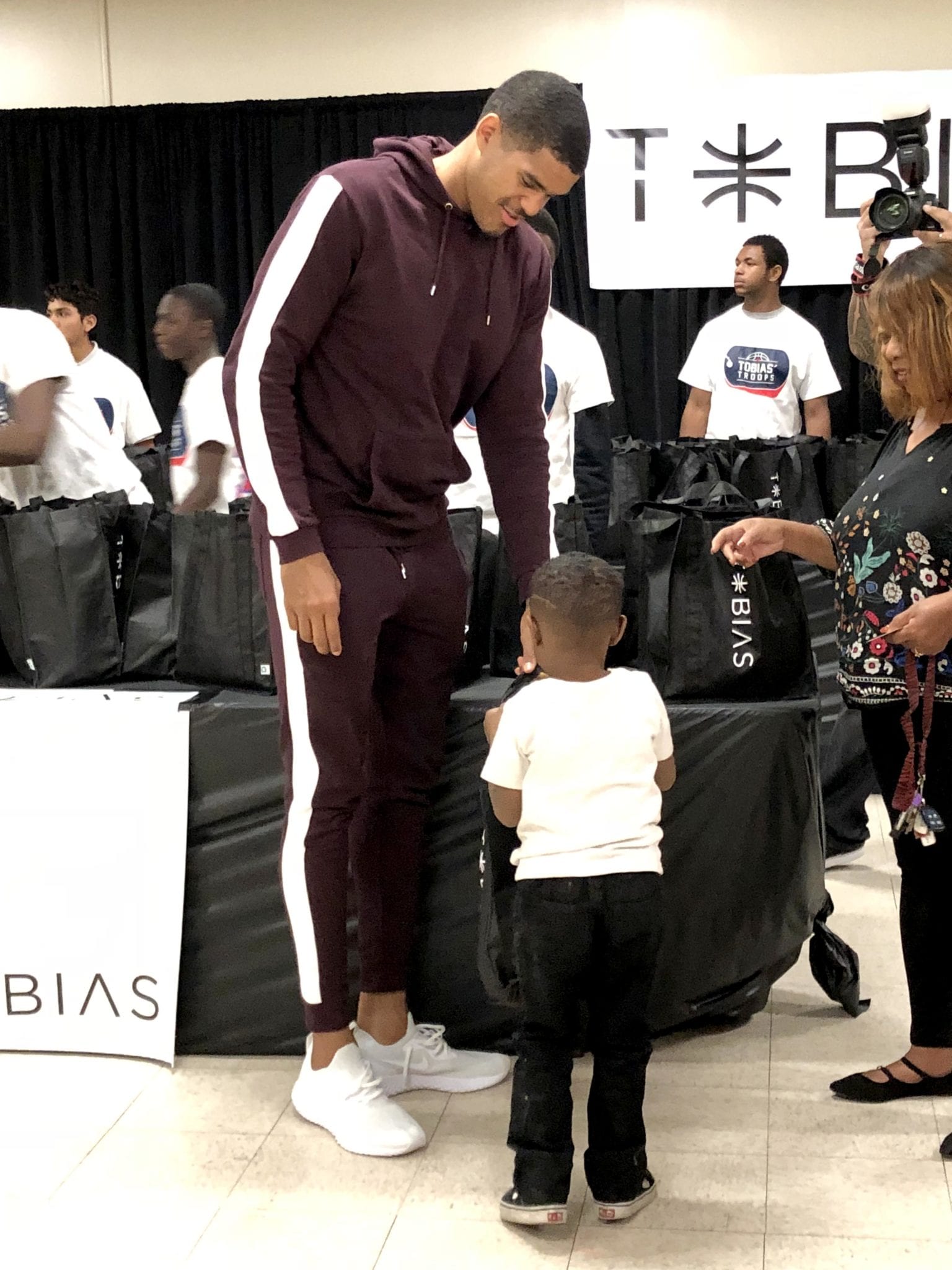 Tobias Harris meets a young fan while handing out turkeys in South LA. (Magdalena Munao)
When it comes to dishing out turkeys, Tobias is honored to work with the Clippers and the Y to help those in South LA's underprivileged community enjoy Thanksgiving the way he's been able to with his family.
"Being blessed and fortunate enough to do something like this, and see smiles on these families' faces to know that they'll have a meal come Thanksgiving," he says. "It's the true meaning of Thanksgiving in my life."
All told, he cares most about facilitating opportunities to provide others with what he was fortunate enough to have in his lifetime: food on the table, positive role models, and quality experiences that his mentees and turkey recipients will never forget.
"One day, I look forward to one of my young mentees to have their own turkey drive and give back to their community," Tobias says. "That's the domino effect of it."
Magdalena Munao is a Multimedia Producer for CloseUp360. Follow her on Twitter and Instagram.