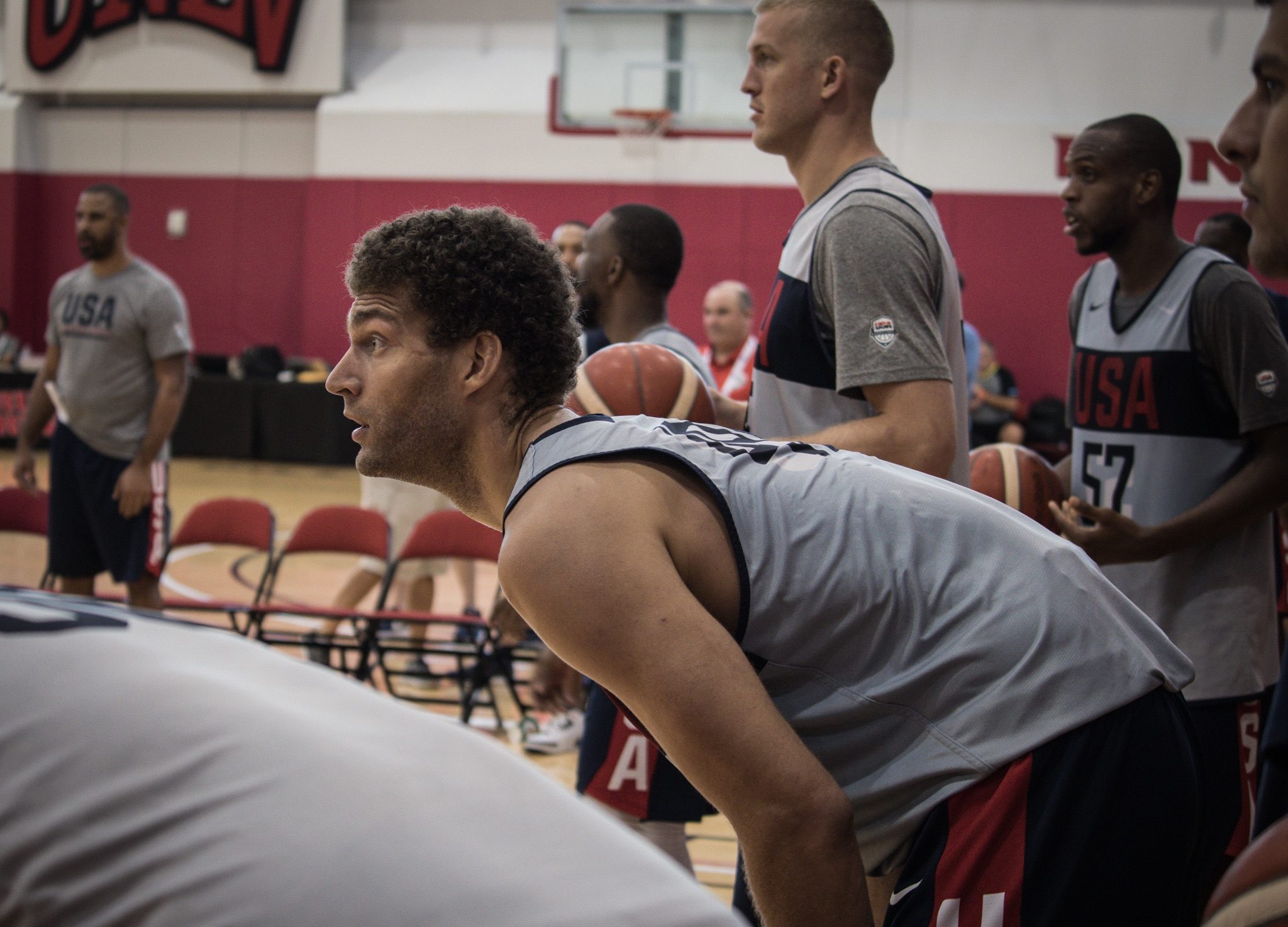 Brook Lopez and Twin Brother Robin Cement Return to Family's Basketball Roots with Milwaukee Bucks
LAS VEGAS -- The Milwaukee Bucks could still feel the sting of their six-game collapse against the Toronto Raptors in this year's Eastern Conference finals, even more so as they watched Kawhi Leonard and company begin their waltz past the Golden State Warriors in the NBA Finals. Little did Brook Lopez know, though, that he'd soon receive perhaps the highest honor of his basketball life.
The friendly seven-footer was still in town in early June when Bucks head coach Mike Budenholzer brought him into the team's film room to break the news. Brook had been invited to USA Basketball's training camp in Las Vegas, to compete for a spot on the 12-man roster for the 2019 FIBA Basketball World Cup in China, under the tutelage of Bud's old boss, legendary San Antonio Spurs head coach Gregg Popovich.
"Obviously, it was a very cool moment," Brook tells CloseUp360 during Team USA's training camp in Vegas in early August. "It's just a huge honor to be wearing USA, playing with these guys. For me, to be playing for Coach Pop, it's always been a dream to be doing all these things. It's great."
That this hoops milestone came while Brook was in Milwaukee—and that he'd end up re-signing with the Bucks on a four-year deal in July—was, in some respects, all too fitting. Both of those developments helped to bring things full circle for his mother, Deborah Ledford, who was born and partly raised in Milwaukee. But it's the Lopez family's decades-deep connection to hoops in Brew City that make Brook's successes there, and twin brother Robin's impending move to Wisconsin, that much more auspicious.
Deborah and her siblings were all tall, but none took to basketball quite like their dad, James Robert "Bob" Ledford.
At 6'6", Bob had the size, skill and athleticism to play football and basketball at the University of Colorado Boulder. When the United States became entangled in World War II, he left school to join the Army, and finished up his schooling and hooping as an All-American at Colorado State College of Education (now known as the University of Northern Colorado).
After marrying his college sweetheart, Aleen "Inky" Stoffel, in 1948, Bob and his wife moved to Milwaukee, where he got a job at the Allen-Bradley Company, an equipment manufacturing firm. During his three years at Allen-Bradley, Bob worked to provide for Inky and their young daughter, Deborah, while playing basketball for the Allen-Bradleys in the National Industrial Basketball League.
From 1949-52, Bob and his co-workers competed against notorious teams like the Peoria Caterpillars, Akron Goodyear Wingfoots, Fort Wayne General Electrics and Denver Chevvies. Amid a pool of literal blue-collar players, Bob stood out, to the point that he drew interest from at least one other noteworthy league.
"He was invited to play in the NBA," Brook says of his grandfather, "but at that point, it didn't pay enough to do that, so he had to keep his job and he played in that league instead."
When he wasn't busy working or playing ball, Bob would go for walks around town with Inky and their young (and growing) family.
"[My mom] has told me all sorts of stories," Brook says, "just growing up and her parents pushing her little sister in a stroller and going for walks through all the ethnic neighborhoods in Milwaukee back in her day."
Those days, though, didn't last long. Within a few years of moving to Milwaukee, Bob was off to Nebraska to teach high school math and science. Two years later, he was back in Colorado as a high school teacher. By 1957, he had moved to California's San Joaquin Valley for work and got a master's degree from Fresno State University, which qualified him to teach math and physics at Reedley College until his retirement in 1989.
Every stop brought with it at least two constants: the accompaniment of his family, and basketball. Bob coached the team at Gordon-Rushville High School in Gordon, Nebraska, to district championships and state tournaments. He guided his prep team in Fort Morgan, Colorado, to the state championship game. And in Reedley, California, he spent a year as the basketball coach at Reedley High School before getting hired into the same position at Reedley College.
Even after he retired from coaching, Bob stayed connected to the game through his family. One of his grandsons, Alex Lopez, was a precocious prep star at Campbell Hall—the same suburban Los Angeles private school that produced brothers Jrue and Justin Holiday—who went on to play collegiately at the University of Washington and Santa Clara. Two others, Brook and Robin, fielded advice from their grandfather as they grew into hoops phenoms under his watchful eye in Fresno. 
No matter how well or how poorly they played, Bob always had something to say, some pearl of industrial-grade wisdom to pass along.
"He loved basketball," Brook says of Bob. "He watched us every day and texted us tips 'til the day he died."
Bob passed away at the age of 90 in 2013, the same year Brook made his first (and, thus far, only) All-Star appearance with the Brooklyn Nets.
Brook didn't think he would leave Los Angeles again—at least, not so soon.
Sure, his first season with the Los Angeles Lakers in 2017-18 had been uneven, in an unusually perimeter-oriented role on a young, fast-paced team. But with LeBron James coming to town, the purple and gold would surely need a savvy, skilled and experienced big man who could spread the floor with his shot and lighten the mood in the locker room with his goofy sense of humor.
For Brook's sake, it would've been nice to stay in what amounted to his hometown. He and Robin were born there and grew up in North Hollywood until the second grade, when Deborah moved the family up to Oak Harbor, Washington, to be closer to their older brother, Alex, while he was at the University of Washington.
But things didn't work out between Brook and the Lakers in the summer of 2018. Instead, he followed in his grandfather's footsteps and took his act to Milwaukee—though this time, the town's NBA team could afford him much more easily than Allen-Bradley could. Brook enjoyed getting to jack up a career-high 6.3 three-pointers per game next to eventual MVP Giannis Antetokounmpo on the court and explore his mom's Wisconsinite roots off the court.
"It's such a great situation to be in," Brook says. "The fanbase has been so welcoming. To have my whole family out there and to do all this on a successful team, on a winning team that has huge goals, it just makes it that much more special."
Brook's mother, Deborah Ledford, was born and partly raised in Milwaukee. (Josh Martin)
With Robin still playing for the Chicago Bulls, less than 100 miles from Milwaukee, Deborah made frequent trips to the region to visit her twin sons and took time to show Brook around her hometown.
"She would take us through Milwaukee on drives around the city, just pointing out places," Brook says. "'Oh, this is where I was born, in this hospital. Your grandmother, my mom, lived here. We'd go for walks down this street. This used to be Germantown. This was the Russian area.' All that stuff. It's really cool."
Now that Brook and Robin will both be on the Bucks, Deborah will need to travel that much less to see her tallest sons. Granted, they won't be sharing the same home, not so long as their cats (Brook's Poupin and Robin's Prince Edward Zephyr) remain mortal enemies.
"We talked about living together," Brook says, "but if the cats don't get along, then we're not gonna be living together."
The Lopez brothers certainly have a sibling rivalry of their own. Give Brook even the hint of an opportunity to crack wise at Robin's expense, and he'll throw it down like the occasional lob pass he still fields on the floor.
Like, say, when asked how he and his twin brother have changed since they last played on the same team, at Stanford in 2008...
"He's just gotten worse as a person," Brook says. "He's improved basketball-wise, but he's as bad a person as he's ever been, and now I'm gonna have to deal with him 24/7 every single day. So, you know, you take what, you take the good with the bad, I suppose."
...or, when asked whether he gives Robin a hard time about not being invited to try out for USA Basketball…
"No, he's not that mentally strong. He'll see stuff, enough to process that and think about that. I just have to keep worried about myself."
In all seriousness, though, Brook and Robin seem stoked to be reunited in the NBA, let alone on a team that looks to once again be a beast in the Eastern Conference—and in a city where their roots run deep.
For Deborah, it's a dream come true for her boys to be together again. For Brook and Robin, it's an opportunity to joke, to win, to work on their entertainment projects (they're big into comic books and television script writing), and bring the Ledford family back to Milwaukee, bigger and better than ever.
"Just for the whole family, it's unbelievable that everyone's going to be out there," Brook says. "It's obviously basketball and business are going to come first, but this is so truly special."
Josh Martin is the Editorial Director of CloseUp360. He previously covered the NBA for Bleacher Report and USA Today Sports Media Group, and has written for Yahoo! Sports and Complex. He is also the co-host of the Hollywood Hoops podcast. Follow him on Twitter and Instagram.