What is the 'Greek Freak' Like on Greece's National Team? 'Dead Serious Working at Full Speed'
ATHENS, Greece -- Watch Giannis Antetokounmpo walk into a room full of Greek reporters, and it's clear he is the country's biggest attraction. One by one, Greece's national team files into the Eurobank building, just steps away from Athens' Syntagma Square, but the focus is on the "Greek Freak" and how he will lead the team at the 2019 FIBA Basketball World Cup, which tips off in China at the end of August.
This Greek team is favored to make a deep run. Between seasoned veterans like Ioannis Bourousis, Nick Calathes, Giorgos Printezis and Kostas Papanikolaou, and exciting young prospects like former Sacramento Kings lottery pick Georgios Papagiannis and new Los Angeles Lakers forward (and one of Giannis' younger brothers) Kostas Antetokounmpo, there is potential for something special. In addition, new Milwaukee Buck Thanasis Antetokounmpo (Giannis' older brother) is on the team.
The team, however, will only go as far as the NBA's reigning MVP takes it. 
Fresh off a season in which he led the Milwaukee Bucks to 60 wins and an Eastern Conference Finals appearance, Giannis would have been forgiven for skipping the World Cup—like so many of his superstar peers have. But he's always prioritized representing his country, and will now look to find a way to lead Greece to its first World Cup medal since 2006.
"It says a lot about his passion about playing for his country," Nick, a former NBA player, tells CloseUp360 at media day this week in Athens. "He could easily be like the Team USA guys and take the summer off. Maybe he did everything he could during the season—it was a long season—but he came here and he wants to help to win a medal."
Much like with the Bucks, Giannis' duties with the national team require him to balance his leadership skills (it's still his team, after all). But on the Greek squad, unlike in Milwaukee, he has veterans to whom he can defer when the situation calls for it. 
Kostas believes that benefits his older brother, and allows him to play a freer style of basketball while wearing their country's colors.
"I feel like the way he leads the Greek national team is more laid back because we got some other leaders, too, like Bourousis, Printezis and some other guys, so he's a leader and a follower at the same time," Kostas tells CloseUp360. "For Milwaukee, he's that guy—the guy that everyone looks to for help. That's the biggest difference. It takes the pressure off when you know you got other leaders on the team. You don't have to worry about everybody." 
It's that self-awareness that has endeared Giannis to his countrymen. He is a vocal leader when need be, but also understands that some of his teammates have much more international experience than he does. 
"I think that says a lot about his character and the winning mentality and competitiveness that he has," Kostas, a former forward for Houston Rockets, says. "As a person, he always wants to do the best thing and try for the best, always wants to be on the top. That says a lot and that's what brought him where he is today." 
Greece's best performance at FIBA's top international tournament came in 2006, when a roster devoid of NBA players knocked out Team USA—which featured the so-called "Banana Boat" crew (i.e. LeBron James, Dwyane Wade, Carmelo Anthony, Chris Bosh and Chris Paul) before they hit their respective primes—in the semifinal. That Greek team ended up losing to Spain in the final, taking the silver medal.
This year, expectations are higher, given Giannis' status in the NBA. 
"All together, we have to support each other and take advantage of Giannis—he's the best player in the world—and to work as a team and a unit to have the better result we can get," Kostas continues.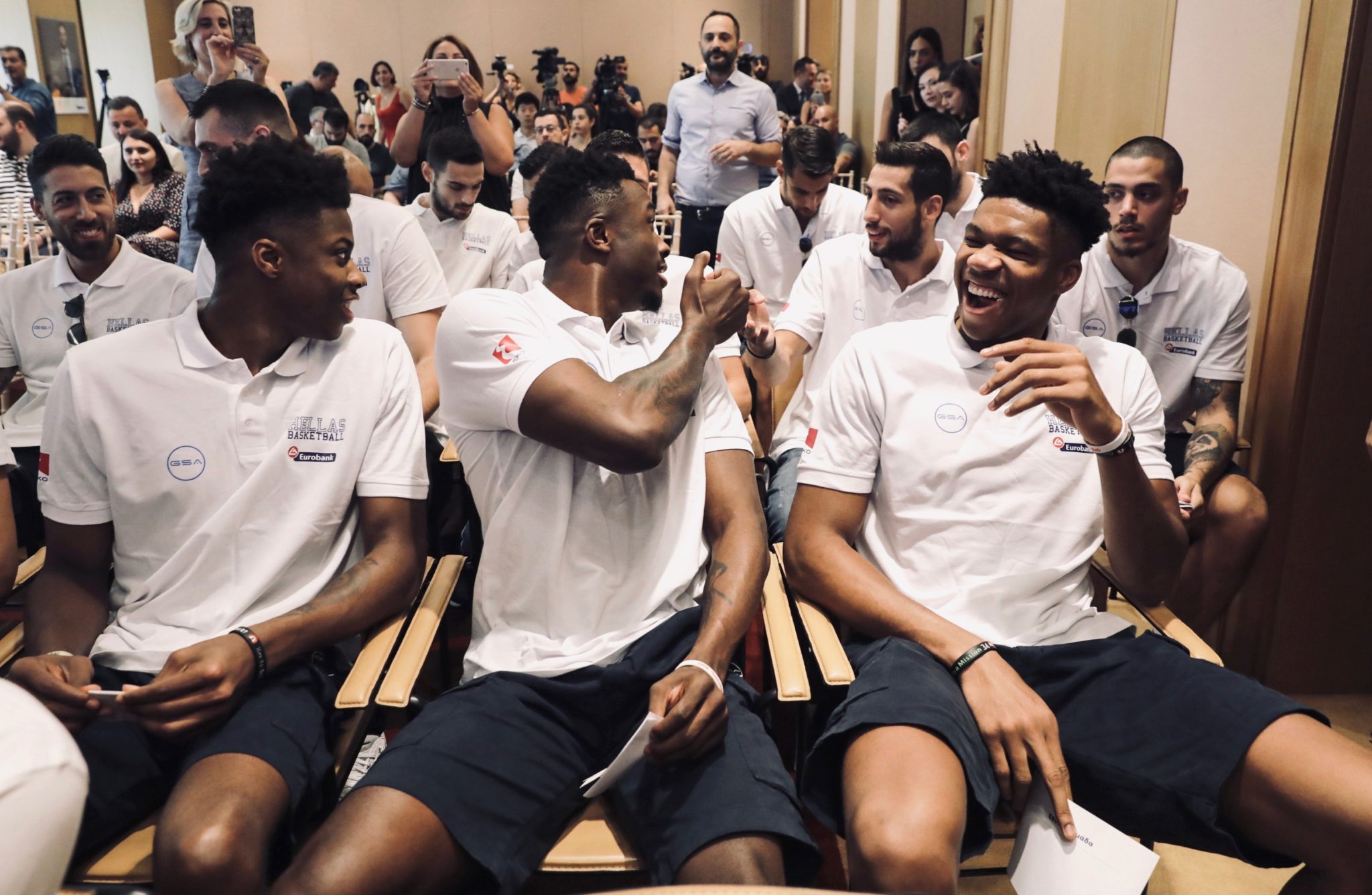 From left: Kostas and Thanasis Antetokounmpo will join their brother, Giannis, on the Greek national team at the FIBA Basketball World Cup. (Lefteris Partsalis/Xinhua via Getty)
The hopes of a nation rest with Giannis. Greece has a proud basketball history, topped by the run to the 1987 European Championship led by Nikos Galis, who is feted to this day in the country. Giannis has said he would exchange his Maurice Podoloff Trophy for a gold medal with Greece. And for a country enduring severe austerity measures due to an ongoing economic crisis, a World Cup victory would surely lift him past the lofty heights that Nikos reached. 
Harris Stavrou is the managing editor at Sport 24 and has been covering Giannis since the 24-year-old forward was 16. He says he's seen a different demeanor from Giannis, who's on track to be the first reigning NBA MVP to participate in the FIBA World Cup.
"It's interesting to watch how Giannis is approaching his role during national team training camp," Harris says. "You see him focused, he is not smiling at all, he is not joking around with his teammates, he is dead serious working at full speed."
Giannis' teammates, too, have noticed how he's gone about setting an example for them to follow.
"Just having his presence, his character, he works hard," Nick says. "It shows the younger guys, and the team, that our best player is one of the hardest workers."
More than anything, though, the Greek national team will look to Giannis as a source of confidence. He's proved that he can dominate the best players on Earth—including the ones who won't be making the trek to China for the World Cup.
"Everyone looks up to him as a player," Kostas says. "He's always been a leader, so he helps us a lot against teams like the USA or other teams that have NBA players. I feel like he's going to be one of the main guys to help us through that because he's been against those guys the whole time during the season. I feel like when the games start, his leadership role is going to be even higher than that."
The Greek team will open its World Cup campaign on September 1 in Nanjing against Montenegro.
Nick Metallinos is a veteran NBA writer based in New York City. Follow him on Twitter.