How NBALAB is Changing the Game for Basketball Art and Merchandise
LAS VEGAS -- The NBA's rookies, sophomores and aspiring entrants weren't the only ones showcasing their talents during Summer League in Las Vegas. On the main concourse of UNLV's Thomas & Mack Center, a small group of creators known as the NBALAB proudly displayed a 10-foot mural of Shaquille O'Neal designed by the LAB's Billi Kid. It was comprised of thousands of tiny wooden pieces taken from the actual Los Angeles Lakers' court on which the Hall of Famer won three of his four championships. 
"We created the Shaq portrait really as a launch pad for the concept of repurposing retired courts," Billi tells CloseUp360 at the Fleur by Hubert Keller restaurant inside the Mandalay Bay.
Billi and his team are currently working to extend that concept into an entire project—which the NBALAB is tentatively calling the NBA Court Collection—with old courts from the Indiana Pacers, Phoenix Suns, Toronto Raptors, Brooklyn Nets (which will have a new court next season) and Golden State Warriors (with their move to San Francisco next season). But as an incubator for businesses that create basketball-inspired art and consumer goods, the NBALAB does more than turn old floors into murals, furniture and jewelry.
Though the LAB first formed four years ago, its roots date back to the 1980s. 
Back then, Bill Fickett was an ambitious electrician with an eye towards expanding his t-shirt business, FHM Sports Group. He stumbled upon an opportunity to do just that while searching for merchandise featuring his favorite player on his favorite team.
 "I'm a big Celtics fan, but an even bigger Larry Bird fan," Bill says.
But he couldn't find even a t-shirt with Larry on it. The best he could do was a basic tee with the Celtics' logo.
"So I went to Larry and his agent and said, 'Can we do a t-shirt?'" he recalls.
Though that kind of licensing was still a new concept, Bill managed to get his very first one directly through Larry and his agent, Bob Woolf, while working at Salem Sportswear in 1984. With Salem's screen printing capacity, Bill managed to produce enough copies of the shirt to fulfill an order for Burger King, which gave them away to its customers as part of a promotion.
The success of the "Larry Legend" screen-printed tees inspired Bill to expand his t-shirt repertoire to include Magic Johnson, Michael Jordan and other NBA greats. By October 1993, Bill had helped Salem Sportswear grow into a publicly traded company, with roughly 2,000 employees across three states, en route to a $136.4 million acquisition by Fruit of the Loom—all by changing the apparel landscape with that one license. 
"I was just one guy in a garage, screen printing 12 t-shirts every day," Bill says. " I never thought I would have an NBA license."
Bill Fickett designed this shirt of Larry Bird and produced it for Burger King in the 1980s. (Courtesy of Bill Fickett)
Nearly 16 years later, Bill was in Miami for Art Basel in 2009 when he met a Colombian-born graffiti and street artist named Billi Kid, who was showcasing his work there. The two hit it off and came together for their first exhibition the following year in Miami. With support from Bill's daughter, Hayley, who has been part of her father's business endeavors since graduating from college, the group brought together 36 different artists to paint 36 official NBA backboards—provided by the league through Bill's longtime connection—as part of an exhibition called "Art of Basketball" at Art Basel in 2010.
"That was really successful for us," Billi says. "The entire show was sold out before it opened, and NBA TV covered the event."
Following the popularity of "Art of Basketball," the NBA gave Billi and Bill the court from the 2011 All-Star Game in Los Angeles. With that first NBA court, they began to building their company by hiring street artists to help them create art out of hardwood.
"Really, our foundation is graffiti, street art culture," Billi says. "We think that fits really well with basketball. So urban sport and urban art."
But with 4,700 square feet of hardwood on their hands, Billi and Bill had more artistic real estate than they knew what to do with.   
That's when in 2014, they created a project called "In the Paint," wherein they enlisted Dwyane Wade (and his kids) to decorate sections of the 2011 All-Star court by dribbling a paint-drenched ball on the floor, as though he were basketball's answer to Jackson Pollock.
As Billi and Bill explored different ways to utilize the court to create art, the two realized other opportunities to make products with the art they produced. In 2015, the NBA asked the group to create consumer goods with other brands by sub-licensing logos and materials upon approval. That's when the duo founded the NBALAB.
When brands and partners receive a sub-license from the NBA, they are typically young companies looking for funding or help navigating through the legal process of business. During the sub-licensee period, the league evaluates how well a company does. Depending on the success of the partnership, the NBA will then graduate the company from a sub-licensee to an official NBA licensee.
The LAB is now working with 25 brands to create products that fuse both art and basketball—from Rastaclat bracelets and PopSockets phone accessories to Sprayground backpacks and Fresh Pawz lifestyle pet products to even covers for Pearl Street Caviar for its jars.
"The biggest joy is seeing these brands being able to interact with the NBA," Bill says. "The whole journey for me is paying it forward. When we look at all those brands, we see innovation. A lot of small business makes it a big business. We look at things as a whole—not individually. It's so rewarding." 
Initially, the NBALAB was asked to bring companies and brands to the league's attention. But after almost four years and many success stories, the NBA is now introducing the LAB to new brands for potential partnerships as well. 
When the NBALAB finds a worthy branding partner, the two parties sign a sub-licensing deal. Depending on how well each brand does in the LAB's incubator, they all have the opportunity to graduate to a full license, pending approval from the league.
"I don't think it was our intention to do this before the LAB. The NBA just had a lot of requests for licenses," Bill says. "Up until the LAB, they only had two choices: it was either yes or no. Now, they have a third where they say, 'Hey, go to the LAB.'"
While the NBALAB focuses on artistic approaches for NBA-inspired products, the team also relishes the opportunities it has to support other businesses. A quarter century after Bill got his chance with his first license, he, Billi and Hayley now look to do the same for other startups and small businesses seeking NBA licenses. 
With the LAB's incubator, they've even helped revive defunct companies.
In the 1980s, Charlie McKinney founded Dirty Dunk after sketching a laundry hamper-turned-basketball hoop on the back of a napkin. Despite its success, Charlie's company folded due to patenting issues.
Last year, Bill came across Dirty Dunk on social media. He learned that Charlie's son, Marshall, had been attempting to bring the company back. With the NBALAB's support, Dirty Dunk became a sub-licensee of the NBA's, with a seven-figure order from Target in the works.
"We called them and Marshall says, 'You changed my life,'" Bill recalls.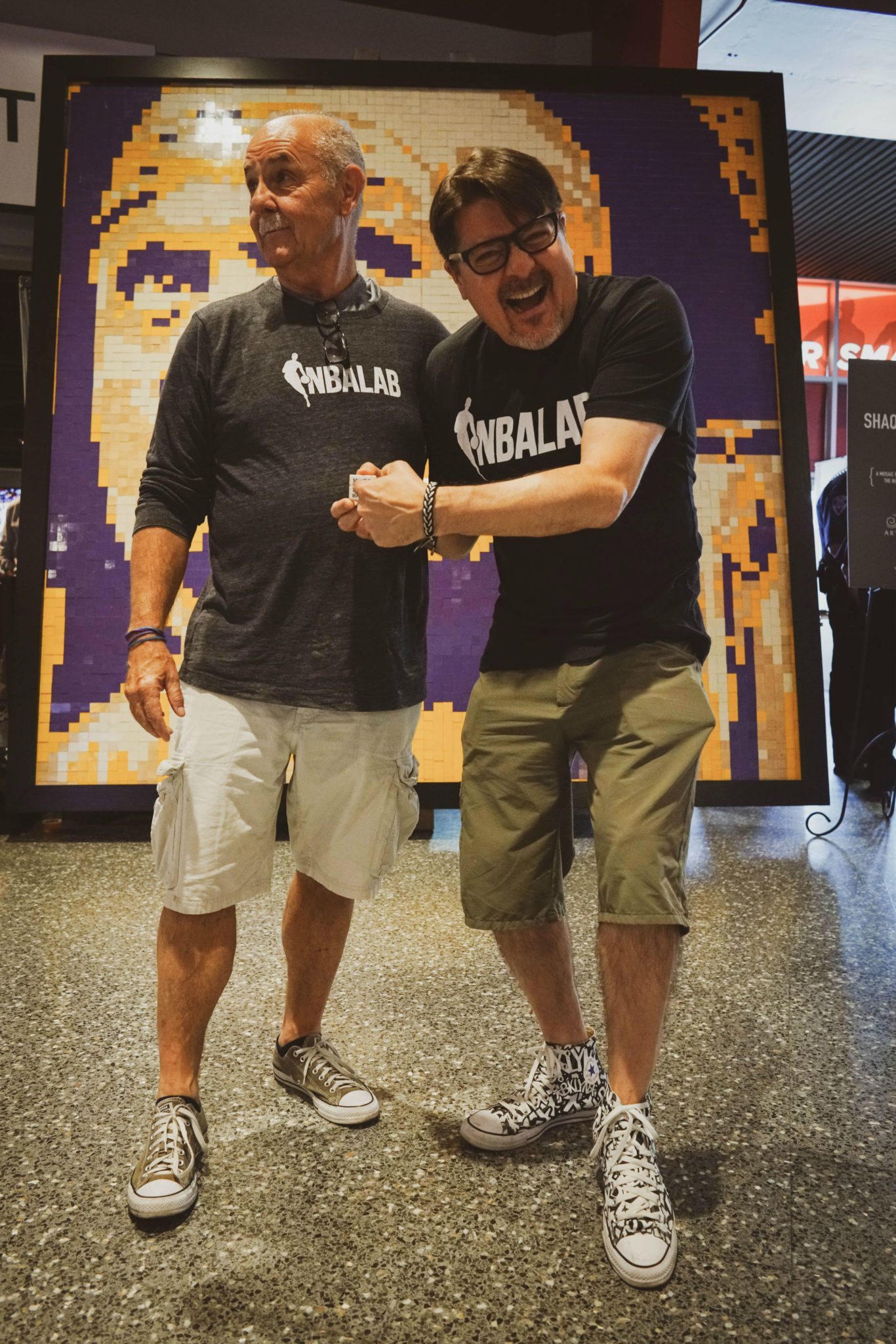 Bill (left) and Billi Kid (right) co-founded NBALAB in 2015, but have been working together since 2010. (Amir Ebrahimi)
The NBALAB has also been able to help license companies that were once denied by the NBA—including the LAB's very own Rastaclat. Despite its rejection from the league, the companies' reasonably priced and easily marketable bracelets held plenty of potential for Bill and Billi. The LAB picked up Rastaclat as a sub-licensee, and three years after its original rejection, the bracelet company is now on its way to becoming an official licensee of the NBA. 
"That, to me, shows what the LAB is all about," Bill says. "The league is learning. Don't kick [companies] out; kick them to the LAB and see how they do."
Bill and Billi aren't just about making the best decisions for the NBALAB. They also consider the needs of the licensees. The incubator culture is just as important to them as the design and artistry of the products they license.
"We work with each of the brands based on what their needs and goals are, and what their financial capacity is," Billi says. "We try to figure it out together. So Daniel [Kasidi, founder and CEO of Rastaclat], in order for him to make his wholesale prices, needed to produce at least 600 units per team. The first experiment was 10 different teams, 600 units each. In three months, he already had made 60,000 units." 
With the backing of Salvatore LaRocca, the NBA's president of global partnerships, the NBALAB tries to give small, hungry companies the same opportunities to succeed through which Bill and his partners have thrived.
Bill and Billi used an old Lakers court to create a 10-foot mural of Hall of Famer Shaquille O'Neal. (Amir Ebrahimi)
Bill still has ambitions of his own for the LAB to help see through to fruition. Coming up, his company will look to revive the legacy of Salem Sportswear with a new line of t-shirts featuring caricatures of NBA players past and present. Bruce Stark, the artist behind those original designs, passed away in 2012. Last year, Bill managed to get in touch with Bruce's son, Ron, who found more than 400 of his father's original illustrations.
"The illustrations were all under his widow's bed!" Bill says.
Bill and his team jumped at the chance to maintain the rights to Bruce's work. 
Since then, the NBALAB has been working with Mitchell & Ness to recreate the vintage hooper tees. Last year, that partnership spawned six player t-shirts that, according to Bill, sold 10-12 thousand units over the holidays. This year, the LAB and Mitchell & Ness will release six more retro designs in time for the start of the 2019-20 season—including, of course, one with Larry Bird.
"If it wasn't for Larry Bird, I would literally not be sitting here talking to you today, and [Larry] doesn't know that," Bill says. "And it's on my bucket list at some point [to tell him]."
The NBALAB x Mitchell & Ness Collection