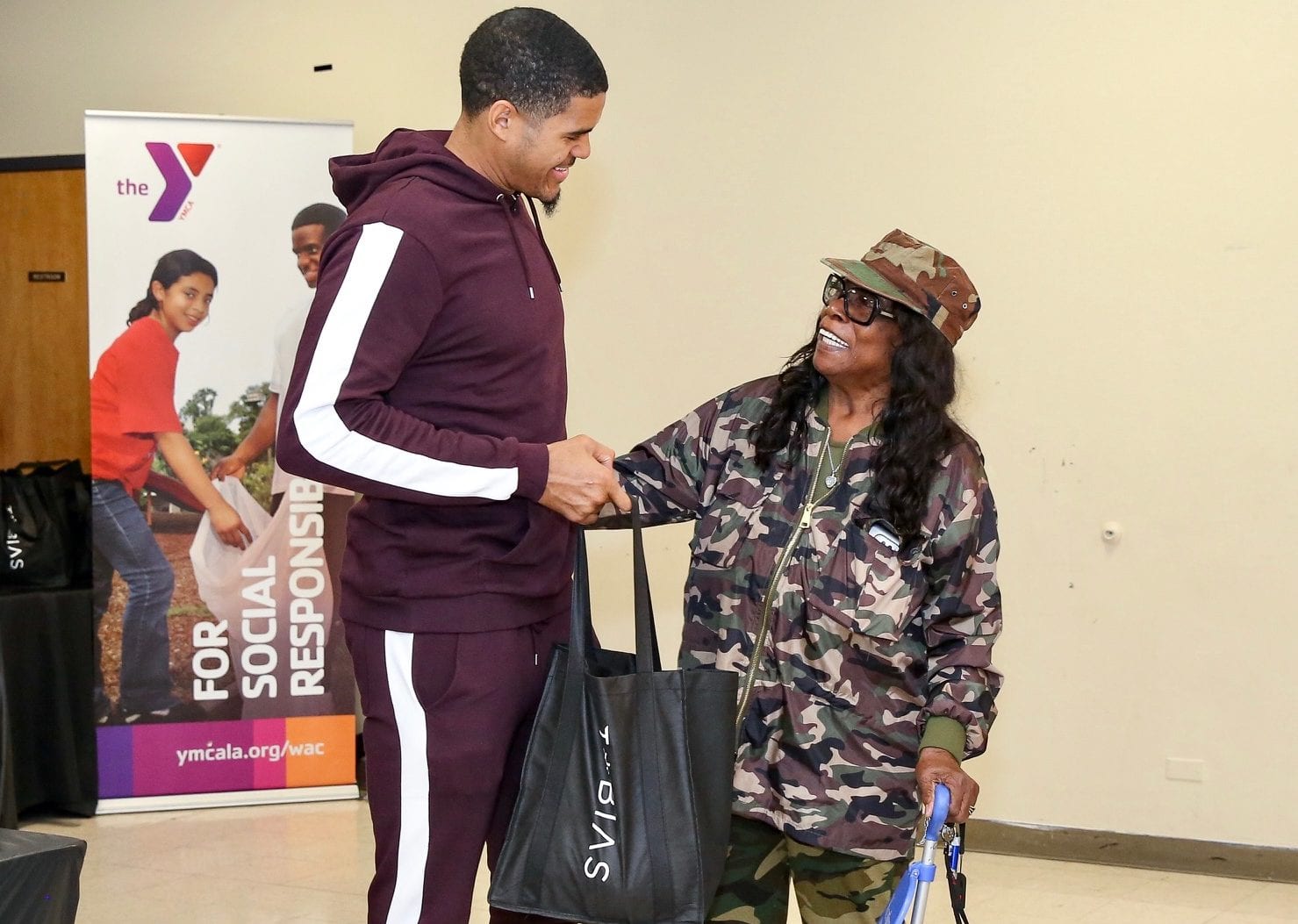 Thanksgiving Spread: 25 Turkey Day Events from Around the NBA
The NBA is taking Thursday off, and deservedly so. The basketball world has been plenty busy throughout November—not only celebrating Thanksgiving, but also getting into the holiday spirit with community events. From handing out frozen birds to sharing full spreads, here's a look at what players, coaches and owners from 25 teams have done to give back for Turkey Day.
Dewayne Dedmon teamed up with the Andrew and Walter Young Family YMCA in Atlanta to distribute turkeys, winter coats, gift cards for Thanksgiving sides and WTRMLN WTR sports drinks to 150 area families.
Celtics coaches and players—including Jaylen Brown, Terry Rozier, Jayson Tatum, Aron Baynes and Semi Ojeleye—accompanied kids from the West End House in Boston at the Flatbread Company for the team's annual Turkey Bowl. Each player captained his own candlepin bowling team in a friendly competition.
Jarrett Allen joined 25 local kids at KeyFood in Brooklyn for an educational shopping experience. Each child received both a $100 gift card and the know-how to budget when gathering groceries.
Hornets owner and NBA legend Michael Jordan returned to his hometown of Wilmington, North Carolina, to pass out Thanksgiving meals to families and Jordan Brand shoes to kids as part of Hurricane Florence relief efforts.
A full contingent of Bulls—including Zach LaVine, Denzel Valentine, Bobby Portis, Kris Dunn and Ryan Arcidiacono—served Thanksgiving dinner to nearly 700 people at the Pacific Garden Mission in Chicago.
Tristan Thompson, Jordan Clarkson, Larry Nance Jr., Sam Dekker, rookie Collin Sexton and head coach Larry Drew were among team representatives who handled hosting duties at the Cavaliers' annual Thanksgiving Dinner for 250 people from the Cleveland Metropolitan School District's Project ACT.
Harrison Barnes and rookie Jalen Brunson split Turkey Day duties in Dallas. The former joined his wife, Brittany, to distribute frozen turkeys and sides, while the latter enlisted Champ, the Mavericks' mascot, to help feed the homeless Pizza Hut at Dallas LIFE.
Trey Lyles did the honors of dishing out frozen turkeys in Denver on behalf of the Nuggets.
Langston Galloway and his wife, Sabrina, gave away Thanksgiving ingredients to families in the Alternatives For Girls program in Detroit.
With his recovery from Achilles surgery still in progress, DeMarcus Cousins teamed up with Lucky California to distribute hundreds of turkeys to Bay Area residents.
Rockets head coach Mike D'Antoni and his wife, Laurel, joined the Rockets Power Dancers, the team's mascot, Clutch the Bear, and other members of the staff to feed Thanksgiving dinner to around 200 families at an event organized by Homemade Hope in Houston.
The Pacers extended their annual "Come to Our House" Thanksgiving dinner into its 21st year. With Victor Oladipo and Thaddeus Young serving as hosts, and Myles Turner, Doug McDermott, Kyle O'Quinn and Cory Joseph putting together plates, the team and US Foods gave out meals to 800 attendees in Indianapolis.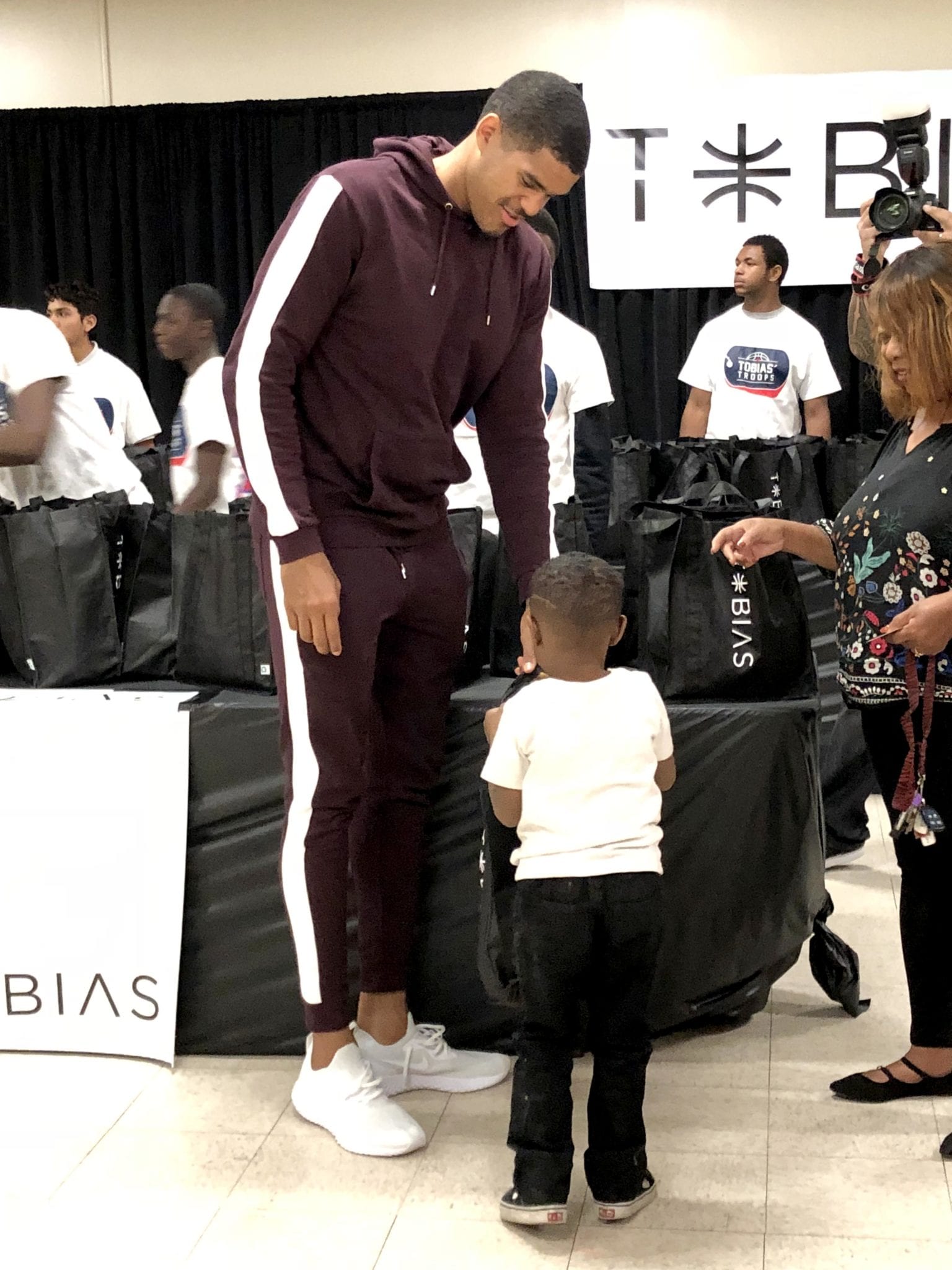 Tobias Harris partnered with the Clippers' Mentorship Assist Zone to bring 30 young men from Tobias' Troops to hand out 250 frozen turkeys to needy families at the Weingart YMCA Wellness & Aquatic Center in South Los Angeles. (Magdalena Munao)
Kyle Kuzma, Josh Hart and Lakers rookie Moritz Wagner dished out food from Lucille's Smokehouse BBQ to nearly 250 guests at the Frank Hotchkin Memorial Training Center in downtown Los Angeles.
For the 27th year in a row, the Heat hosted their Thanksgiving celebration in Miami's historic Overtown district. Hassan Whiteside, Josh Richardson, Udonis Haslem, Tyler Johnson, Dion Waiters, Justise Winslow, Kelly Olynyk, James Johnson, head coach Erik Spoelstra and franchise legend Alonzo Mourning were among those who helped to hand out fresh food and holiday supplies to more than 2,500 locals at the Miami Rescue Mission.
Giannis Antetokounmpo teamed up with Pick 'n Save to donate $50,000 in supplies to food pantries and community organizations. The Bucks' All-Star also took the time to deliver some of those supplies to the House of Peace in Milwaukee and dish out dinner to 200 people at St. Vincent de Paul Society.
The Minnesota Timberwolves FastBreak Foundation and Hy-Vee handed out Thanksgiving supplies to more than 500 families in town.
Anthony Davis extended his track record of Thanksgiving dinners to a perfect 6-of-6 as a pro. The Pelicans All-Star enlisted his parents, along with teammates Jrue Holiday and Tim Frazier, to feed needy families at the New Orleans Mission.
Russell Westbrook continued his tradition of serving Thanksgiving dinner in Oklahoma City to hundreds of kids and their families, in conjunction with his Why Not? Foundation and the Boys & Girls Clubs of America.
On Wednesday, Aaron Gordon joined Magic staff and Amway to dish out 475 full Thanksgiving meals to Central Florida families at the Engelwood Neighborhood Center in Orlando. Then on Thanksgiving Day, head coach Steve Clifford and 120 Magic staffers sponsored breakfast for more than 500 residents at the Coalition for the Homeless of Central Florida and more than 100 homeless people—a holiday tradition that's now in its 26th year.
The Trail Blazers brought some Thanksgiving cheer on the road with a bit of family flavor. For their first annual McCollum Brothers Turkey Giveaway, C.J., his brother, Errick, and other members of the family clan helped to feed 200 families in their hometown of Canton, Ohio, with support from the Akron-Canton Regional Foodbank.
The Kings supported California State Assemblyman Jim Cooper in his efforts to give away 2,500 turkeys in just four hours in Sacramento.
With time to spare amid his recovery from a torn meniscus, Spurs rookie Lonnie Walker IV handed out gift cards from H-E-B Texas Grocery to families at the Eastside Branch of the Boys & Girls Clubs of San Antonio.
The Jazz extended their Thanksgiving charity efforts into the start of a third decade by sharing 3,000 meals with the homeless at Vivint Smart Home Arena in Salt Lake City.
The Wizards deployed rookie Troy Brown Jr. to deliver Thanksgiving dinners in and around Washington, D.C.
Josh Martin is the Editorial Director of CloseUp360. He previously covered the NBA for Bleacher Report and USA Today Sports Media Group, and has written for Yahoo! Sports and Complex. He is also the co-host of the Hollywood Hoops podcast. Follow him on Twitter and Instagram.