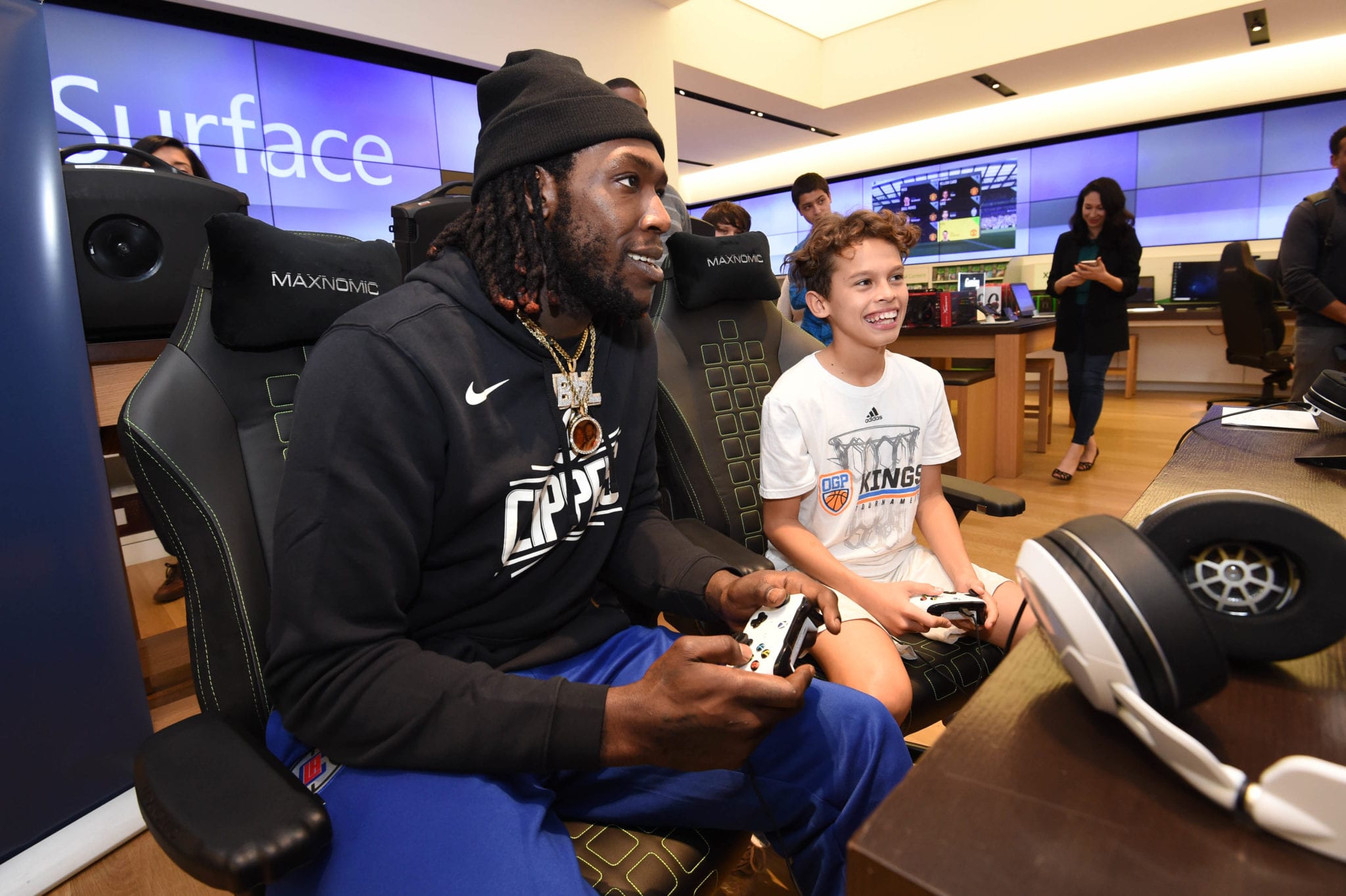 Montrezl Harrell
Featured Story
Clippers' Montrezl Harrell Blends STEM Robotics and Video Games for Good Cause
LOS ANGELES -- A week before Christmas Day, the Westfield Century City mall buzzes with holiday spirit as shoppers scour stores in search of the perfect gift. On the lower level, inside the Microsoft Store, Montrezl Harrell's presence is a present enough as he duels with middle and high school kids from the Boys & Girls Club of Venice over rounds of NBA 2K.
Here, Trez is hosting the Montrezl Harrell Foundation Gaming Night, the first official event for his personal charity. Though the focus is on STEM education, fun remains at the forefront through gaming for 20 at-risk youth.
"You see a very tall Clippers player who you know and pull for all the time because a lot of [the kids] are huge Clipper fans, but then to come in and know that this person is actually giving back," says Calvin Lyons, president and CEO of the Boys & Girls Clubs of Metro Los Angeles. "A lot of our kids don't get the opportunity to enjoy these types of events. To have someone investing in them, for their STEM education, and for sports and the holidays— it's a great occasion."
Kids take turns on the Xbox consoles while working on a STEM (Science, Technology, Engineering and Math) activity focused on building a robotic finger. But as a big gamer himself, Trez can't help but lock in on the sticks.
Montrezl Harrell inside the Microsoft Store at Westfield Century City. (Photo by Adam Pantozzi/NBAE via Getty Images)
The Tarboro, North Carolina native comes from a humble community where youth can easily fall into trouble without the right guidance and opportunities. Thankfully for Trez, he found basketball and video games to keep him busy during his childhood.
"We're from a small town in North Carolina. We see all the violence, the inner-city kids who have it tough," Trez tells CloseUp360. "Anything you can name, we've seen it in our city. Because we're so small, we're not really known for the big-name stars or the guys who are known for all the hype. It's a blessing for me to be where I am today. I'm blessed to be able to play the game I love and be able to call it my job."
Many NBA team-sponsored charities and athlete-hosted holiday events revolve around giving away gifts, food and clothes. Trez's, on the other hand, centers on an activity (gaming) that echoes his own youth and another (STEM) that he hopes will influence kids to make smart choices and shamelessly pursue their goals.
"Our foundation is just about giving back and actually showing kids that it doesn't matter where you come from or where you live or where you were raised or brought up at," Trez says. "You can do anything you want to do as long as you work hard for it, and put your mind to it. That's what my foundation is about."
Students operate a robotic finger during the first official event for Montrezl's foundation. (Photo by Adam Pantozzi/NBAE via Getty Images)
A few days prior to the Gaming Night, Trez and his foundation held an unofficial event in Tarboro, where he partnered with the local Target store to provide coats and jackets to inner-city kids as winter weather sets in.
"It's about giving back and actually being part of the community, actually showing my face," Trez says. "Our foundation is really about... basically how I go about myself. It's about family. It's a tight-knit group."
Though just in his fourth NBA season, Trez has already gotten to learn from a selection of respected veterans about how to make a difference, both on and off the court. During his two seasons with the Houston Rockets, he bonded with Nene and Trevor Ariza. Since joining the Clippers as a chip in the Chris Paul trade during the summer of 2017, he's sought advice from Lou Williams and Marcin Gortat.
"You're coming in as a kid and these are grown men who got families, kids of their own," Trez says. "So I've been around a lot of great veterans and I've learned from every one of them."
Now, the Clippers feature a handful of young players—including rookies Shai Gilgeous-Alexander and Jerome Robinson—who could benefit from the knowledge Trez, 24, has already gathered. On this day, though, and through his foundation, he's more focused on sharing what he's gained with an even younger generation, with an assist from the Boys & Girls Club.
"It gives kids the chance to not only focus having to do something after school, which is great," Trez says of the national organization. "But it also makes sure that they stay on their school work, as well as taking field trips and going outside and seeing something stuff they don't normally see."
Like, say, competing against an NBA player in a virtual version of his profession.
"To actually meet [an NBA player] is a one-in-a-million chance as they're going about their day to day life," Trez says.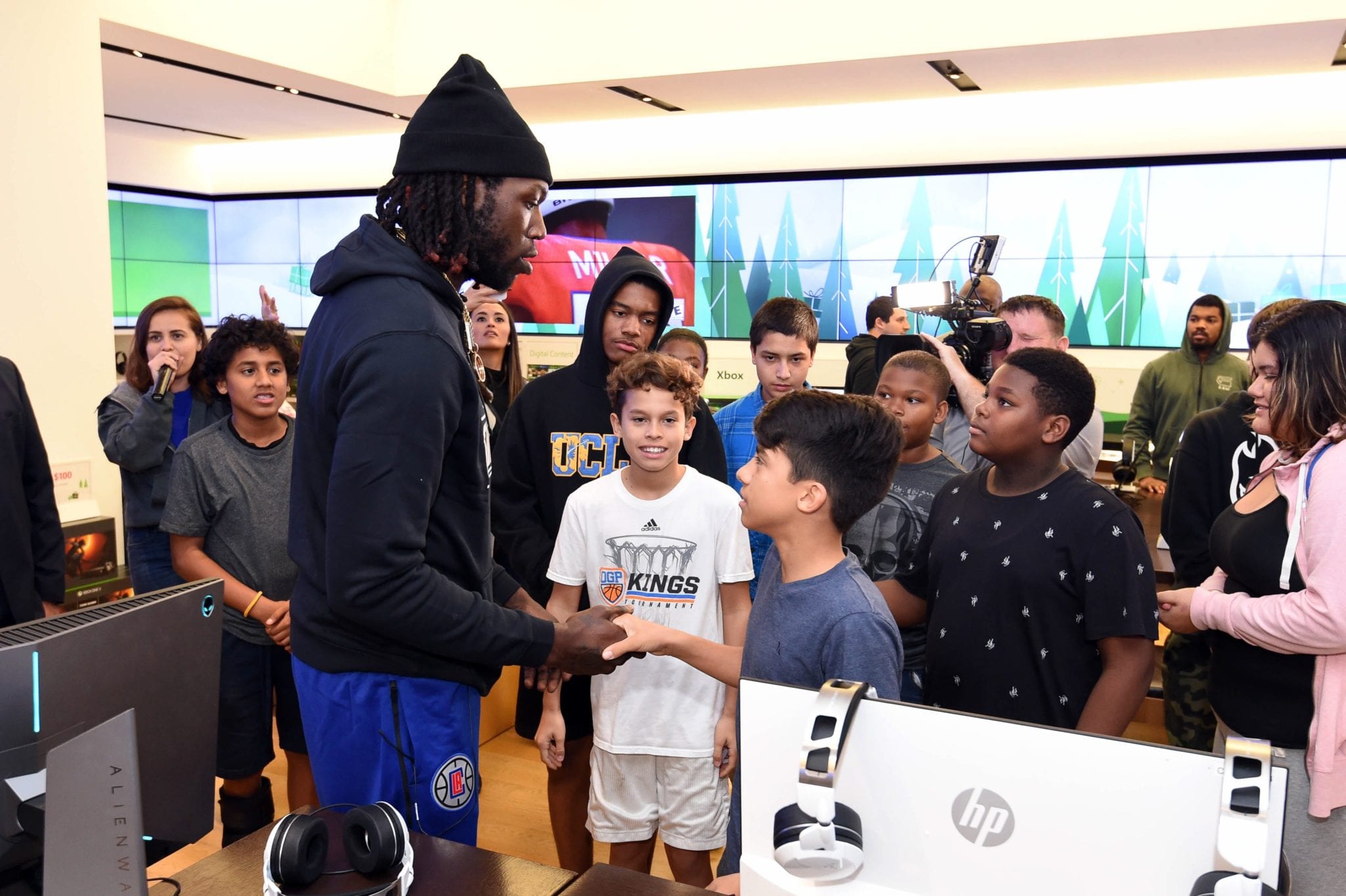 Montrezl greets the students from the Boys & Girls Club of Venice. (Photo by Adam Pantozzi/NBAE via Getty Images)
The Boys & Girls Club encourages the kids to maintain good grades and take their education seriously. Still, staff and leadership are well aware that many of the kids have dreams of going beyond their small-town communities to become professional athletes, just like Trez.
As the Clippers big man once did, Parker Brooks, a high school freshman from the Boys & Girls Club, hopes to pursue a career in basketball one day. Until then, he doesn't let his dream affect his studies.
"We do a lot of playing around," Parker says, "but when it comes down to it and getting to work, we do."
At the Microsoft store, Christmas shoppers peer around the corner to listen in on the friendly trash-talking that ensues between Trez and the kids. However silly that banter may seem on its face, the interaction may well go a long way toward making the experience of playing NBA 2K with an actual NBA player that much more memorable.
"I think it has a tremendous impact," says Jay Valladares, athletic coordinator of the Boys & Girls Club of Venice. "A lot of these kids look up to [him]. They want to be [NBA players] when they grow up, so for them to meet one of them in person just might change their life."
Montrezl hands out gift bags to the kids. (Photo by Adam Pantozzi/NBAE via Getty Images)
Trez looks forward to many more events like Gaming Night and the coat giveaway. He hopes to watch his foundation reach its full potential, impacting families across communities in LA, North Carolina and beyond. Though Gaming Night was not about a giveaway, per se, Trez still made sure that each kid went home with a swag bag full of Clippers gear that he happily signed and personalized for those who waited patiently, Sharpie markers in hand.
"Giving back is always something great to do," Trez says. "I'm big on family. I do everything with my family. I care for my family. I have two beautiful kids that I love to death, so I'm a big family person. And that's what this time of the year is about—it's about family."
Magdalena Munao is a Multimedia Producer for CloseUp360. Follow her on Twitter and Instagram.