Shai Gilgeous-Alexander
Featured Story
Clippers' Shai Gilgeous-Alexander, Jerome Robinson Get Crash Course in Community Work
LOS ANGELES -- For NBA rookies like Shai Gilgeous-Alexander and Jerome Robinson, there may be no better place to and time to see what it takes to run a community event to perfection during the holidays than on a chilly Tuesday night in South Central Los Angeles.
Here, the Los Angeles Clippers are hosting their 13th annual Adopt-A-Family holiday event at the Salvation Army Siemon Family Youth and Community Center.
Blake Griffin took part in this event as a rookie. This was where Chris Paul made his first waves in the LA community after former NBA commissioner David Stern's "basketball reasons" diverted him from the Los Angeles Lakers to the Clippers in December 2011. Baron Davis paid a visit here, a stone's throw from his grandmother's house. Even Sam Cassell, who's now an assistant on head coach Doc Rivers' staff, came to this Salvation Army facility during his playing days as a Clipper.
"All those guys who are now in the NBA have been here, walked into these doors, and sat in couches here and read to kids," says Mortimer Jones, the executive director at this Salvation Army branch. "We've been doing this for a while. This is now a tradition and super special."
This year's edition includes some special touches that would be worth noting for any player looking to give back. The buffet sponsored by Ralphs is all well and good. So, too, is the sight of Jerome handling his first-year duties by reading The Not Very Merry Pout-Pout Fish to some 70 rapt children, while elder teammates Avery Bradley, Mike Scott, Tyrone Wallace and Sindarius Thornwell watch his every word from their respective couch seats.
Jerome Robinson and his Clippers teammates read to kids at the team's 13th annual Adopt-A-Family holiday event. (Varon Panganiban/LA Clippers)
But it's the thought behind the gift-giving portion of the event—along with the relative fluidity of the proceedings—that sets such a high bar for the young players to reach. Rather than handing out presents at random, the LA Clippers Foundation takes the time to not only fulfill wish lists for each of the 31 families selected, but also surprise them with money toward next month's rent.
"It shows you how blessed you are and how thankful you should be, and how you shouldn't take any moment for granted," Shai says. "A lot of people in the world would die to be in our positions and we're the blessed chosen ones to be in this position."
For all the players, it's a simple but powerful opportunity to impact the communities around where they live and work. For the young ones, in particular, It's also a chance to consider what they might do with their resources when (or if) the moment comes for them to give back on their own.
By taking the time to show up, sit with the families at their tables, read to the kids and assist in distributing gifts, they transform an event like this from a pleasant respite from everyday life to a memory these kids and their parents (and, in some cases, grandparents) will hang onto for years to come.
"The community does remember it," Avery says. "I feel like it gives them an opportunity to embrace us and appreciate us that much more. So it's really good for those [young] guys to be a part of it."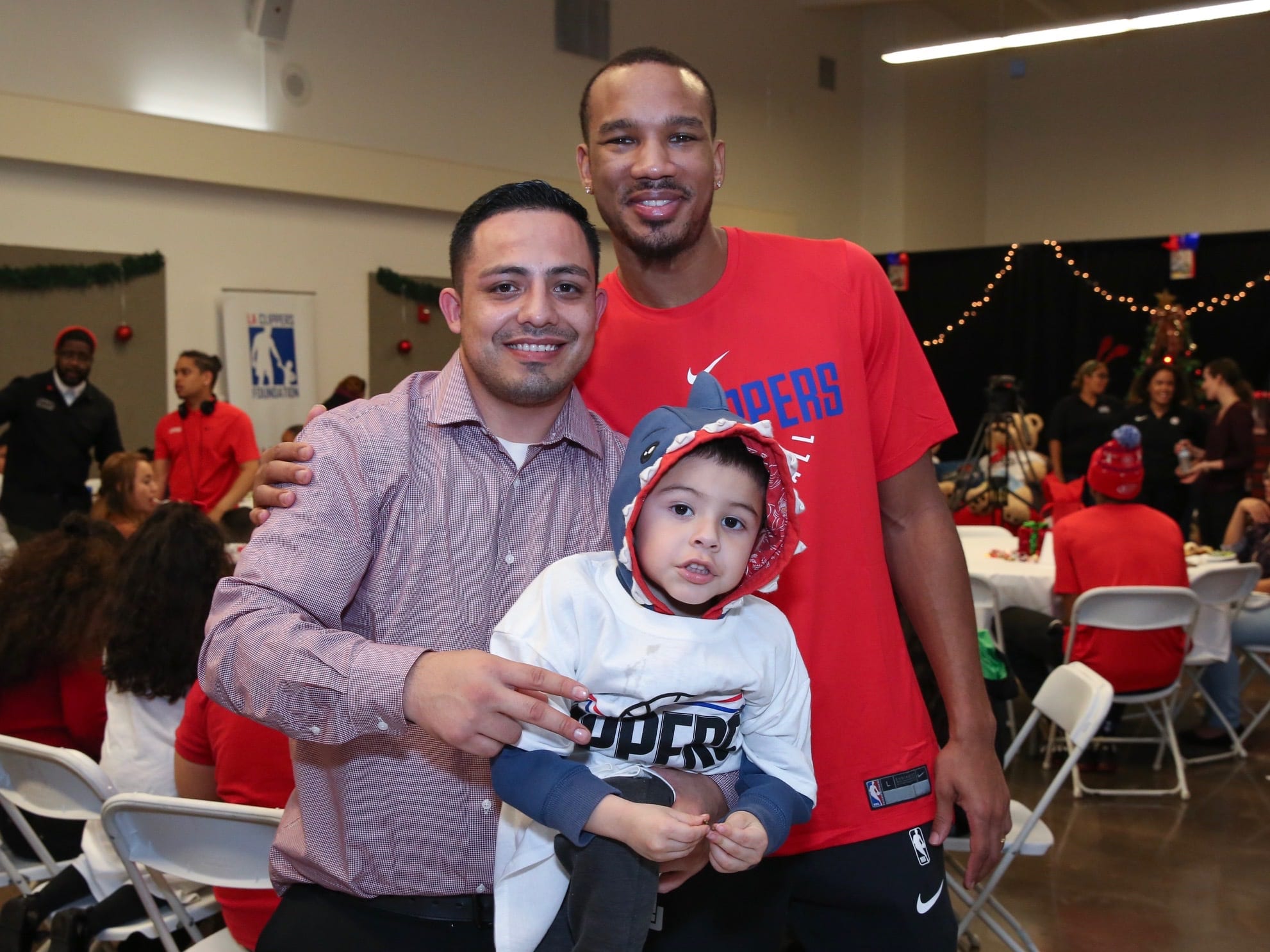 Avery Bradley at the holiday event. (Varon Panganiban/LA Clippers)
It's common for NBA players to come to these team-sponsored community celebrations with memories of their own from which to draw. Many of them hail from the same inner-city environments where organizations typically deploy their players as ambassadors.
"I remember how much of a smile it put on my face," Shai says. "For the roles to be flipped and for me to put smiles on kids' faces, it's a cool feeling."
For the vast majority of players around the league, taking part in charity events is commonplace, especially around the holidays. Even rookies like Shai, 20, and Jerome, 21, have participated in their fair share of community appearances during their basketball careers.
"A lot of the schools I went to had really good coaches and cared about the community around them," says Shai, who attended three high schools before playing a year at the University of Kentucky. "Giving back was a regular thing for me, so I'm used to things like this."
Though opportunities like these weren't quite so prevalent for Jerome at Boston College, he and his Eagles teammates still mentored kids and built relationships with families during their years in Beantown. Since joining the Clippers as lottery picks in the 2018 draft, Shai and Jerome have both become regulars at team community events, including a real-life game of NBA Math Hoops at the Crenshaw Family YMCA in South LA this past November.
"Having this platform for us," Jerome says, "it makes it easier to reach a bunch of people."
From left: Mike Scott, Shai Gilgeous-Alexander, Avery Bradley, Jerome Robinson, Sindarius Thornwell and Tyrone Wallace. (Varon Panganiban/LA Clippers)
Events like these can also serve as templates for players to follow later in their careers, when they have set up their foundations and determined what they want to do with the resources they are afforded by their NBA careers.
When Mike Scott was a rookie with the Atlanta Hawks, he was a frequent presence at basketball camps, backpack giveaways and adopt-a-family gatherings put on by the team.
Now in his seventh season as a pro, the 30-year-old Clippers forward, known best for his collection of emoji tattoos, has taken many of those same charitable concepts spun by his first NBA team and applied them in his hometown of Chesapeake, Virginia.
"I think with the young guys seeing us do it," Mike says, "it'll inspire them to do that for their hometown as well."
Not that there's any rush for Shai and Jerome to do so. The former is finding his footing as the Clippers' starting point guard, with a career-high 24 points on December 17. The latter has appeared nearly as often in the G League (six times) as with the big club (eight times), due in large part to LA's backcourt depth.
Shai and Jerome present gifts to a family. (Varon Panganiban/LA Clippers)
In truth, putting on an occasion like this isn't nearly as easy as the Clippers and the Salvation Army make it look. Selecting and organizing attendees, preparing and handing out gifts, supplying meals and decorating the space—all amid the controlled chaos of camera people, photographers and reporters capturing the moment—requires the concerted efforts of dozens of staffers from across organizations. Getting everything to come together and run so smoothly is the product of something for which there is no substitute: years of practice.
And before any player can look to initiate that kind of event planning, there should (and maybe must) be a mission to serve, a cause for which these particular mountains must be moved. For Shai and Jerome, it's too early to say what those motivations might be.
"I think I really want to sit down with my parents and figure out some of my values," Jerome says, "and kind of channel it into one central area and impact that as much as I can."
Until then, he, Shai and just about every other young player around the league can appreciate the instant gratification that comes with brightening the days and nights of the less fortunate at team events. All the while, they can file away these memories as inspiration for their own life-changing endeavors down the line.

Josh Martin is the Editorial Director of CloseUp360. He previously covered the NBA for Bleacher Report and USA Today Sports Media Group, and has written for Yahoo! Sports and Complex. He is also the co-host of the Hollywood Hoops podcast. Follow him on Twitter and Instagram.