Nets' Spencer Dinwiddie Leaps Basketball Hurdles to Become a Sneaker Pioneer
NEW YORK CITY -- It's mid-September, two weeks before the Brooklyn Nets open training camp for the 2018-19 season. Spencer Dinwiddie sits on a grey couch in a friend's Union Square apartment, dressed in his usual relaxed ensemble: a hoodie, shorts and Vivobarefoot shoes.
But Spencer himself is hardly so nondescript. Neither is what he holds in his hands—what he calls "his baby": K8IROS, a state-of-the-art sneaker that he designed himself.
"Every piece is authentic to me," he tells CloseUp360. "It's about the journey."
Spencer starts with the smallest of details. On the tips of the laces, he's inscribed "6-3-17" to commemorate the passing of his grandmother, "Goey." Running along one side, he has the Los Angeles skyline, a reminder of home. On both sides of the knit upper, he's placed his logo that combines an "S" (for Spencer), a "D" (for Dinwiddie) and an "8" (his jersey number and the December 8th birthday his grandmother and brother, Taylor, share).
"You want it to be easily recognizable," Spencer says, "but tricky enough so that people are, like, 'Oh, that's interesting.'"
On the side of the outsole, he's written "Audience of One," a hashtag common to his Instagram posts that reminds him to focus on what he can control. Underneath the shoe, in the midsole, he's etched his son's name, Elijah (born this past April), into a plate—not carbon fiber, but rather a substance called Pebax.
"Y'all haven't seen nothing like this yet," he quips.
Running through the front of the sole, he's written his favorite Bruce Lee quote: "Be Like Water." And at the heel-end of the sole, he's placed an octagonal crest containing a Phoenix, a symbol of "wisdom and rebirth," as Spencer puts it—and a spiritual nod to the motivation behind his fabrication.
"To my knowledge, I'm the first person to draw, then create, then play in—practice, preseason, regular season—literally his own shoe," he says.
Spencer started sketching shoes when he was five. Twenty years later, he still doesn't fancy himself an artist, but he says, "I think my artistry is a little bit better now than it was when I was younger."
Where most aspiring sneaker designers focus on how their creations would look, Spencer was obsessed with how they would feel.
"I wanted to have something that was gonna be literally the greatest performing basketball shoe of all time," he says.
But as Spencer matured from a childhood sneaker designer to an adolescent hooper, his on-court development pointed to a future without a signature shoe under a major brand.
Back in high school, he didn't see himself as particularly athletic—and neither did the prep prospect rankings. In a class capped by current All-Stars like Anthony Davis and Bradley Beal, Spencer didn't sniff the top 100 on any of the major recruiting lists. But his high SAT scores and standout grades at Taft Charter High School in Woodland Hills, California, were good enough to draw a scholarship offer from Harvard.
To those on the periphery of his life—and, perhaps, even some closer than that—the choice was clear.
"You should take the guaranteed money," they would tell him. "If you go to Harvard, you'll have a six-figure job for the rest of your life. Life will be easy."
Spencer has an expansive vocabulary, but easy? That's not in there.
"That's not how I'm wired," he says. "That's not how I think."
Spencer Dinwiddie with K8IROS, his self-designed sneaker. (Anthony Kuzviwanza)
Instead, after rallying support from his parents, Stephanie (a former professor at the University of Southern California) and Malcolm (a real estate agent), Spencer accepted a basketball scholarship to the University of Colorado. It was no hoops powerhouse, but he would get to play against NBA-caliber competition in the Pac-12 Conference—with yearly road games close to home at UCLA and USC.
Spencer put in two solid years in Boulder, just as he planned. He earned the nickname "The Mayor," for his congeniality and popularity around campus. His actual name was popping up on NBA mock drafts. In his mind, he was ready to make the leap to the league. But his parents, who supported his decision to eschew Cambridge for the Rocky Mountains, convinced him to take more time.
Then, on January 12, 2014, as the Buffaloes were riding high to start Spencer's junior season—14-2 overall, winners of four straight—his new plan hit a serious snag. During a game against Washington at Hec Edmundson Pavilion in Seattle, he crossed up a Huskies defender and tumbled to the floor, clutching his left knee. He rolled and writhed in pain before two of his teammates carried him off the court.
The diagnosis: a torn ACL. Just like that, Spencer's season had burned out. So too, it seemed, had his pro prospects.
But he jumped into the 2014 draft anyway. And the Detroit Pistons picked him in the second round, No. 38 overall.
For Spencer, there were no guarantees—not of a role, not of a contract, not even of two good legs to play on.
"I knew I was fighting for not only a position, but my job in general," he says.
Spencer recovered in time to make his NBA debut during Detroit's first game of his rookie season on October 29, 2014. But the wake-up calls kept coming, one after another. With Brandon Jennings, another LA native, starting at point guard and D.J. Augustin backing him up, the Pistons had little playing time left for a second-round pick with a recovering knee.
So they sent Spencer down to the D-League (now the G League). He played well with the Grand Rapids Drive, but as the Pistons spun through a revolving door of point guards—from Jennings' torn Achilles to Augustin getting traded to the Oklahoma City Thunder—Spencer still couldn't carve out a consistent role in the Motor City.
After his second season, Spencer got the boot through that revolving door, onto a carousel of uncertainty. In June 2016, the Pistons traded him to the Chicago Bulls. The following month, the Bulls waived him, only to sign him to a non-guaranteed deal for training camp three weeks later. Six days before the 2016-17 season was set to begin, Chicago cut him again, sending him back to the D-League, this time with the Windy City Bulls.
Rather than sulk, Spencer showed out. In nine games, he averaged 19.4 points and 8.1 assists, while shooting 47.9 percent from the floor and 41.4 percent from three. That was enough to draw interest from the Nets, then well on their way to a woeful 20-62 season under first-year coach Kenny Atkinson.
Finally on Dec. 8, 2016, he found a permanent home, signing a three-year deal with Brooklyn. It was the same day "Goey" and Taylor celebrated their birthdays.
Spencer's NBA dream was reborn. 
But that wasn't his only dream. He wanted his own sneaker, too.
"I think every player grows up seeing themselves as the guy and having their own shoe," he says.
By then, Spencer had tried out just about everyone else's sneakers. He wore adidas while playing on the AAU circuit with Pump 'N Run, the same Southern California program that had produced NBA standouts James Harden, Klay Thompson, Paul George, Jrue Holiday and Gilbert Arenas, among others.
At Taft, he wore Nikes—mainly Kobes and Hyperdunks—while winning the John R. Wooden California High School Player of the Year award and leading the Toreadors to the city championship as a senior, alongside fellow future NBA draftee DeAndre Daniels.
At Colorado, Spencer cycled through more Kobes and Hyperdunks, along with Nike Zoom Crusaders.
Left to his own devices, he would favor the classic signatures—to the extent that he could break down which models to sport according to the occasion. Among Jordans, the 1, 3 and 4 were strictly for fashion, in his mind. The 10 and 11 suited him on the court. The 5 and 7 were good for both, especially the Jordan 7 Retro Hare.
As for Kobes, Spencer liked the "iconic" 4 and calls the 11 a "very good shoe." But his favorite of all the Mamba's silhouettes, hands down, was (and is) the Kobe 5 Bruce Lee.
"Coincidentally, I tore my ACL in those," he says, "but we're not gonna talk about that too much."
When Spencer joined the Nets, he didn't have a merchandise deal with any major apparel company, much less a signature sneaker in the works. He had only just graduated from the D-League—and onto the worst team in the NBA, no less.
"No brand wanted to sign me," he says.
Spencer wears his shoe, K8IROS, in China this offseason. (Courtesy of Spencer Dinwiddie)
So Spencer started thinking. Then he started researching—first, scanning shoe websites and reading product reviews, then digging into how kicks were actually made.
"It was more than aesthetics for me," he says. "If I was gonna do this, I wanted to do it right, perfect. I wanted people to know that this was serious. And this is whether I sell a million pairs or I sell two pairs."
Then he started drawing. And drawing. And drawing some more.
"You sketch the first and it's kind of like you're just getting your thoughts out," he says. "And then, you may revisit it the next day and you're, like, 'Yo, this is dope,' and that's when you really start to, like, pencil it in or pen it in and really make it nice. Then you really start to fill it in and make it official."
On one side of the upper was an "8,"; on the other, an "S." Instead of laces, the shoe was conceived with one giant strap to keep everything in place.
And on the back, Spencer drew an elaborate crest encompassing a Phoenix. He calls it his "spirit animal"—mythical or otherwise.
"Regardless of what it goes through, it rises from the ashes," he says. "It's born again. It keeps on going, it keeps on pushing, it keeps on growing and getting better."
The only problem: The detail on the crest, Spencer was told, would be too difficult to fabricate in real life.
If the Phoenix was going to rise from the ashes, it would have to do so elsewhere.
Spencer reviews the very first sketch. (Anthony Kuzviwanza)
Spencer still had a ways to go before he could step up from sneakerhead to shoe mogul. Tech packs and computer renderings wouldn't cut it. He had to figure out what it would actually feel like—which fabric would cover his foot and which foam would support it.
For that, Spencer teamed up with Project D.R.E.A.M. (Disrupt Reality Every Available Moment), which helps influencers build their own brands. His partners there connected him to a manufacturer in China, who revealed to him a panoply of potential materials.
Spencer became the kid in the candy store again. He slurped up an alphabet soup of foams, from Phylon and EVA (ethylene-vinyl acetate), to TPU (thermoplastic polyurethane) and ETPU (expanded thermoplastic urethane).
"You can change compounds very slightly and it changes the whole feel, the whole makeup of the shoe," he says. "It might look the same, but it's going to function completely differently. If you're serious about it, you can really go down a complete rabbit hole."
Spencer wanted to make the ideal shoe—one that prioritized function over form and didn't skimp on quality. To do that, he would have to invest himself fully in every aspect of its design.
"It's actually a lot of fun to, like, really dive into that process and just really kind of get your hands dirty in the process," he says.
What he found was that the most popular foams on the market had already been surpassed by another, though Spencer wouldn't reveal what that superior material was or where it could be found. This "holy grail of foams," as he describes it, would be 50 percent lighter than adidas Boost, and lighter still than Nike Air.
The only catch? The cost.
But where corporate goliaths might have shuttered at the expense of this futuristic material—and its impact on their profit margins—Spencer had just one thing to say: "Give it to me."
"When you're a big company, you have to follow the numbers," he says. "That's no shot [at the major shoe brands]. That's how they got to be a big company, how they got to be so successful.
"But when you're doing it from a place of true passion, and you wanna really put out what you feel is the best product possible, you can really take the time and do literally everything to the best of your ability."
Spencer wasn't in this for the money. He wanted to make the best shoe possible for his feet. And this being his personal brand's first step into the business, he wanted to put his best foot forward.
If his partners didn't like it, too bad. And if his partners didn't like him donating more than a quarter of the profits—25.08 percent, to be exact, a nod to his college and pro jersey numbers—to the Dinwiddie Family Foundation, which helps underprivileged kids pay for college...well, that was too bad, too.
"This is exactly what I want to do and this is how I want to do it," he told his partners. He had an Audience of One to satisfy.
In a prototype Spencer debuted last December, the Phoenix crest reappeared, etched into an octagon on the underside of the sneaker. He aimed to have a version of his shoe ready for sale by April 6, his birthday.
The following week, Spencer was with the Nets in Mexico City to play the Thunder and Miami Heat. Issues were popping up with the prototype, which was about 80 percent done at the time. As much as he liked the look, he wasn't satisfied with how it felt on the court.
Frustrations were mounting, so he took out his anger on his sketch pad. He drew, and drew, and drew some more, while looking further into the Chinese manufacturing market, until he came up with a new tech design. He adjusted the aesthetics to make the shoe more functional. He tweaked the tech to make it more breathable.
He called up his partners with what was sure to be bad news for them.
"You know what? If it's not perfect, we're not gonna do it," he told them. "Scrap that. I wanna do this one."
"You can't do that," they replied, incredulous to his demands.
But again, Spencer would not budge. His way or no way. Audience of One.
"Too bad," he said. "That's what I'ma do."
So they started over. Another design, another manufacturer in China. Back to the ashes.
Spencer was rising on the court, even as the Nets remained mired in the aftermath of a 2013 trade that saw the Boston Celtics siphon off Brooklyn's draft picks in exchange for the aging combination of Kevin Garnett and Paul Pierce. That futility, combined with injuries to Jeremy Lin and D'Angelo Russell, begat Spencer's opportunity.
Last season, he played in 80 games, starting 58. In February, he won the Skills Challenge at All-Star Weekend in front of a friendly crowd at Staples Center, in the heart of his hometown. Come April, he was nominated for the NBA's Most Improved Player award after averaging 12.6 points and 6.6 assists. Come August, the Nets fully guaranteed his contract.
Still, the NBA is a business. The Nets have D'Angelo starting next to Caris LeVert in their backcourt. Any day, the ground could shift again beneath Spencer's feet, sending him to any of 28 other cities around the league.
Over the summer, Spencer had what he calls his "Pablo Escobar moment."
He went to China for the first time—the furthest he'd ever been from home in his life—ostensibly to appear at Jeremy's annual camp. But Spencer extended the trip, so he could see (and wear) the latest version of his sneaker.
"I had to go to the source," he says.
He wasn't there to indulge in exotic foods or immerse himself in a culture that stretches back millenia. The trip was all basketball—which is to say, all business.
First, Spencer, Taylor, his best friend, Jeremy Adams, and business manager, Michelle Obeso-Theus, visited the various factories producing the parts and materials for his sneaker. Then they arrived at the main facility, where all those pieces came together.
Spencer inspected the shoe—his baby, in the flesh—before trying it on. There would be tweaks to come in the aesthetics, new colorways to test out.
"But the meat, like the true essence of everything that I wanted," he says, "is perfect."
And the Phoenix? There it was, underneath the shoe. And on the insole, in Spencer's own handwriting, were two phrases: "The Mayor" and "The Phoenix That Rose."
An early sketch of the sneaker. (Courtesy of Spencer Dinwiddie)
The outsole with the phrase "Be Like Water" inscribed, which was inspired by Bruce Lee. (Courtesy of Spencer Dinwiddie)
The LA skyline runs down the side, with "Audience of One" on the sole. (Courtesy of Spencer Dinwiddie)
And the upper features his logo, which combines his first and last initials, and his jersey number. (Courtesy of Spencer Dinwiddie)
Any anxieties he had about how this version of his sneaker would turn out faded fast, replaced by a rush of happiness and gratitude. After all the hours he'd spent masterminding his shoe, and going back and forth with his partners, the hard part of the process was over. Now, the real fun could begin.
"I was having a fucking moment while I was in the factory," Spencer recalls.
Trying on the shoe was one thing; actually hooping in it was another. And doing so against his best friend, who was also wearing the shoe? That wasn't just a moment. It was the beginning of a movement.
"This is really real because it's not just me, you know what I mean?" Spencer reflects. "It's not just me and being emotionally tied to it and this, that and the third, but now my guy's doing it."
After playing well against Jeremy in China, in the sneaker that started as a thought in Brooklyn, Spencer was ready to bring his gospel back to where it all began.
"Now, I'ma go back home, I'ma kill everybody wearing it," he says. "And then that's just how it went from smile, switch flip, it's time to work."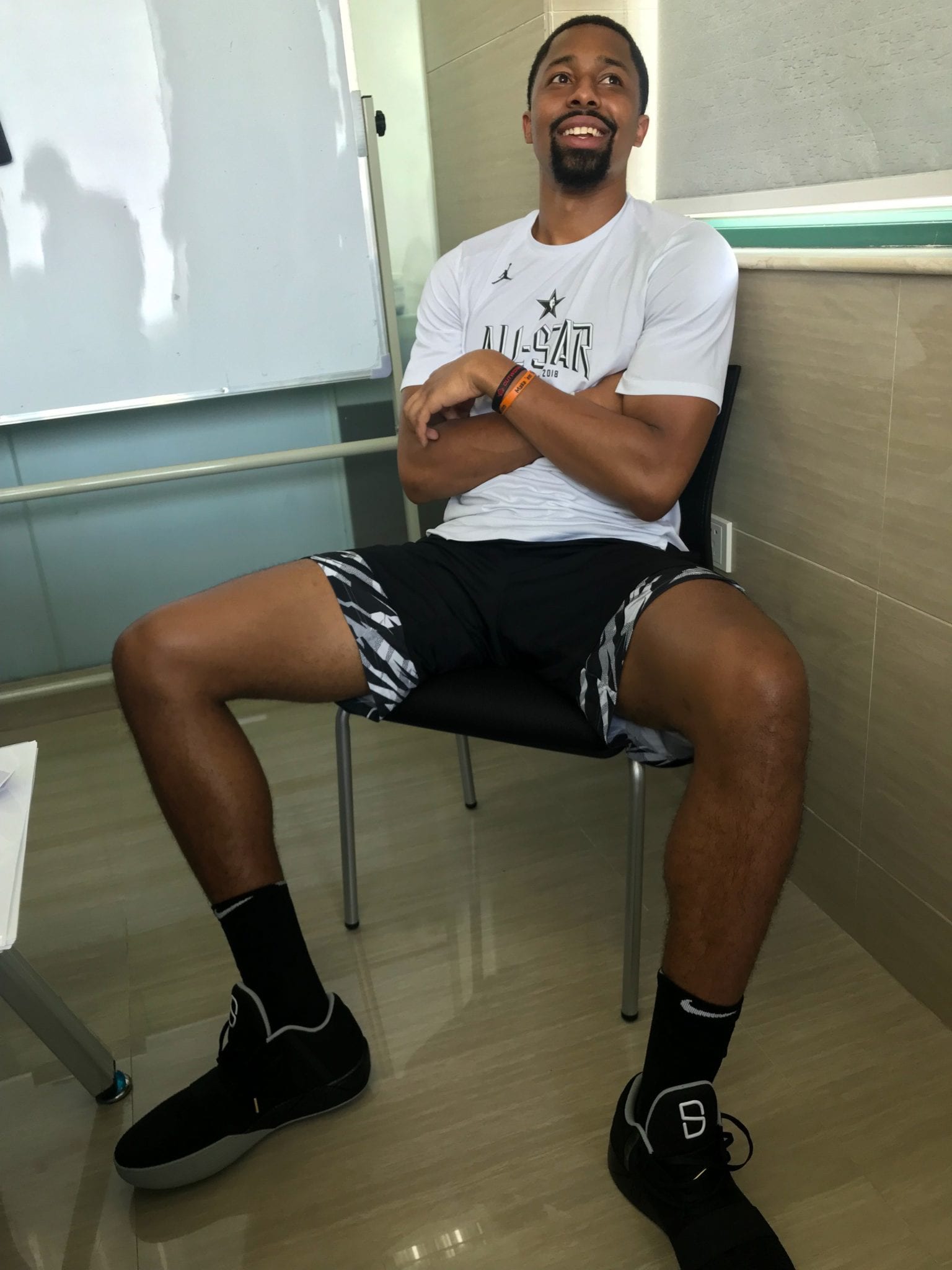 Spencer tries on his shoe for the first time in China this offseason. (Courtesy of Spencer Dinwiddie)
With his trail in China blazed, Spencer returned to the U.S. to travel down another road not taken. For two days over the offseason, he was a student in Cambridge, Massachusetts, taking part in professor Anita Elberse's "Crossover Into Business" program at Harvard Business School. He took in lectures, absorbed the nuances of a unique classroom setting and mingled with other brilliant minds—from MBA students to fellow NBA players like Kyrie Irving, Paul Millsap and Zaza Pachulia.
"To be able to just be in that setting with them, and to see how they operate and how they think and they're wired, that was the best thing for me," Spencer says. "By far."
As his third season with the Nets tips off, he will continue his education at Harvard through a semester-long correspondence. He will also spend his spare time building his brand through partnerships with other designers and creators.
Spencer spends time in class at Harvard Business School for its "Crossover Into Business" program this offseason. (Courtesy of Spencer Dinwiddie)
But Spencer's marketing efforts are already well underway. In fact, they began almost as soon as he settled back in Brooklyn. Every training session and every offseason scrimmage at the HSS Training Center, where the Nets practice, became an opportunity to evangelize by example, simply by wearing his sneaker.
Getting buckets in practice? "Must be the shoes," Spencer's teammates quipped.
Recording the highest vertical leap on the squad? "Must be the shoes."
Heading home dripping in sweat and swagger? "Must be the shoes."
"It's a running joke there," he says.
The Mars Blackmon-esque ribbing aside, Spencer's teammates have offered plenty of positive feedback on his shoes. Some have even suggested they would wear them—if not for their own apparel allegiances.
"To have guys just be, like, 'Yo, that's dope, I'll rock that,' or whatever, that's been fun," he says. "That's been pretty cool."
Spencer will spend the 2018-19 season spreading the gospel of K8IROS on the biggest platform in basketball. Every night, his sneakers will be seen by tens of thousands of fans in shimmering arenas, captured by scores of high-definition cameras, and beamed onto hundreds of thousands (if not millions) of screens across the country and around the world.
Those same shoes will be available to purchase at Nets team stores and online through Spencer's website (projectdream.io starting on December 8), with payments in bitcoin accepted at the latter.
Wherever he goes—and wherever his shoes are seen—Spencer will have his life story stitched around his feet.
"All those little things, all those people and places, instances in time that I carry with me on a daily basis," he says, "I'm able to also literally carry them onto the floor with me."
Josh Martin is the Editorial Director of CloseUp360. He previously covered the NBA for Bleacher Report and USA Today Sports Media Group, and has written for Yahoo! Sports and Complex. He is also the co-host of the Hollywood Hoops podcast. Follow him on Twitter and Instagram.